17 Feb 2022
4th Emirati-French Business Engagement Summit
(The event is themed: Innovative & Sustainable Mobility Solutions – Building the City of Tomorrow)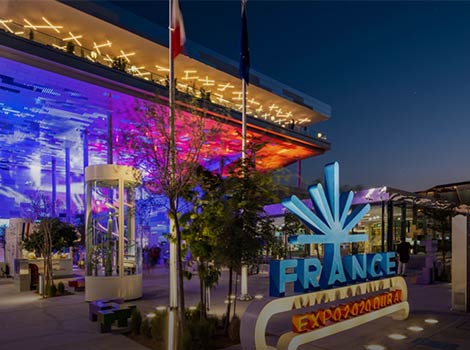 Dubai's Roads and Transport Authority will organise the 4th Emirati-French Business Engagement Summit on Feb 28th, 2022 under the theme: Innovative & Sustainable Mobility Solutions – Building the City of Tomorrow, in partnership with CCI France UAE. The gathering will be attended by His Excellency Mattar Al Tayer, Director-General, Chairman of the Board of Executive Directors of the Roads and Transport Authority, His Excellency Xavier Chatel, Ambassador of France to the United Arab Emirates, His Excellency Nathalie Kennedy, Consul General of France in Dubai, and Mr. Geoffroy Bunetel, President of CCI France UAE.
"The Emirati-French Business Engagement Summit will be held at the French Pavilion, Expo 2020 Dubai. Around 20 leading companies in the fields of mobility and innovation will take part in the summit, which is a catalyst for boosting the commercial and investment exchange between RTA and CCI France UAE for sharing knowledge, expertise and top global practices of transport and infrastructure," said Ibrahim Al Haddad, Director of Commercial and Investment, Strategy and Corporate Governance Sector, RTA.
"This summit brings together French companies and government entities based in the UAE and the Republic of France along with officials from RTA. This one-day event will discuss an array of topics that include Innovation in Transportation & Mobility Solutions Post-Covid, the Future of Mobility and Driving the Future of Mobility, and the Future Expectations of Sustainable Mobility," he added.
"CCI France UAE is delighted to organize this 4th edition of the Business Engagement Summit 2022 on Innovative and Sustainable Solutions. We would like to thank the Roads and Transport Authority for its great support and for accepting to jointly organize this event which is strengthening the cooperation and the synergies between the Emirati and the French entities", said Agnes Lopez Cruz , Managing Director, CCI France UAE.
The Emirati-French Business Engagement Summit has set an example to emulate in the cooperation between the public and private sectors in offering diverse opportunities for benefiting from smart technology. It also offers exposure to the best practices of supporting transport services and future planning in line with RTA's roads and transport strategy.