19 Sep 2023
Launching 3rd Sustainable Transport Means Photo Competition
(The event is held in coordination with HIPA and the Year of Sustainability)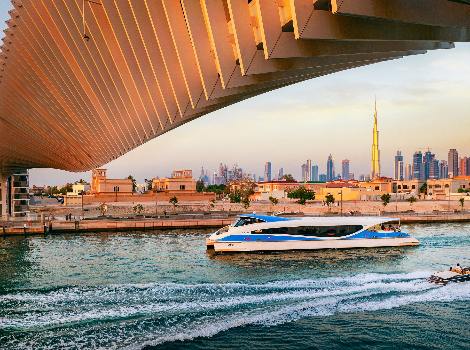 Dubai's Roads and Transport Authority (RTA) is all set for the launch of the 3rd edition of Dubai's Best Sustainable Transport Means Photo Competition, which is held under the theme: Mobility in Dubai. The event is held in cooperation with the Hamdan Bin Mohammed Bin Rashid Al Maktoum International Photography Awards (HIPA) and will run for three weeks ending on 15 October 2023.

His Excellency Ali Khalifa bin Thalith, Secretary-General of HIPA, said, "Sustainability plays a profound role in shaping the best and most appropriate lifestyle for current and future generations, not only in the UAE but around the world. We need to harness the power of photography to serve as a visual translator, crystallizing the meaning of sustainability and bringing it closer to our minds through innovative artistic expression."

"We are pleased to continue our fruitful collaboration with the Roads and Transport Authority to promote awareness about the significance of sustainable transportation. HIPA, with RTA's support, invite all photographers and commuters alike, to participate in our mobile photography competition and be a part of this beautiful and challenging journey towards winning," added Bin Thalith.

Yousef Al Rida, CEO of the Corporate Administrative Support Services Sector, RTA said, "The competition, which coincides with the Year of Sustainability 2023, aims to encourage residents, tourists, and particularly public transport users to showcase Dubai's sustainable transportation through their smartphone lenses. Public transport means include the metro, tram, public buses, and water transport like the water bus, water taxi, ferry, and abra. The contest highlights the experiences of public transport pioneers via photography. At the same time, it promotes the public transport means of Dubai's Roads and Transport Authority as a blend of leisure and transport. The public can take part in the contest using personal accounts on Instagram using the hashtag #RTAxHIPA.

Participation Rules

Participants in this competition are required to adhere to the following rules: Photos are to be submitted only through the competition's online registration page via: (www.hipa.ae) starting at (00:01) on September 25, 2023, until (00:00) on October 15, 2023, local time of the United Arab Emirates (+4 hours GMT). No entries will be accepted after the specified time. Participants must be individuals and not institutions, and their age must not be less than (18) years at the time of participation in the competition. Participants must confirm their acceptance of these Rules at the time of participation. Participants must agree that the RTA and HIPA will automatically disqualify and without additional notice any photos found to have been submitted by a participant under the age of (18) at the time of participation.

Participation Photos

The competition consists of two categories: a portfolio and a single photo. For the portfolio category, entrants need to submit a set of (5) images. For the single photo category, just a single image is required. Entrants cannot use the same photo for multiple categories, and any photo entered in more than one category will be disqualified. Submitted images should be in JPEG format, high-resolution, and a minimum size of 5 MB. The longer dimension of the photo should be no less than 2000 pixels, and the quality should be at least 300 dpi. Participants should only use mobile phones for capturing the images, ensuring each photo is at least 2 MB in size.

Furthermore, upon request, participants must upload the RAW image or file. Submitted photos must be free from logos, signatures, names, frames, borders, symbols, signs, date and time, or any other marks added by the participant. While basic technical edits are allowed, they must not alter the authenticity or originality of the image. Advanced editing that creates illusions, visual tricks, or manipulations, including superimpositions and creative modifications, is prohibited. RTA and HIPA have the right to assess and exclude any images/video clips that, at their sole discretion, violate the stated rules.
Images or clips that portray or include content deemed inappropriate and/or offensive, including but not limited to nudity, violence, or other materials considered incompatible with religion, culture, public morality, and the genuine customs and authentic Emirati customs and traditions, will be disqualified.

Submissions will be assessed by a judging panel from the HIPA Award, ensuring the utmost standards of impartiality, transparency, creativity, and aesthetics, given the award's esteemed international stature. Dubai boasts stunning beaches, and urban and cultural landscapes, that inspire its residents, visitors, and tourists to visually engage with them, especially those related to maritime transportation, which can be manifested in wonderful images.