08 Jun 2023
Al Tayer reviews Barcelona's experience in urban planning and fostering wellbeing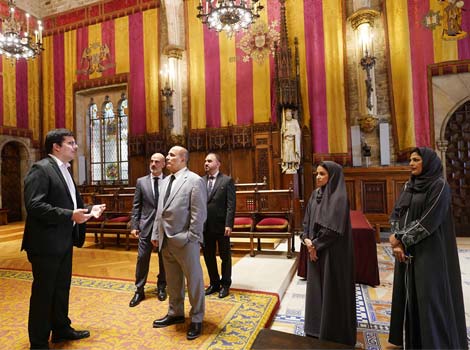 His Excellency Mattar Al Tayer, Commissioner General for Infrastructure, Urban Planning and Wellbeing Pillar, and Chair of the Supreme Committee of Urban Planning in Dubai, reviewed during his visit to Barcelona the city's practices in urban planning and housing policies, and its experience in enhancing wellbeing and offering infrastructure and integrated mass transit systems.
During a visit to the Barcelona City Council, Al Tayer was briefed on Barcelona's experience, which witnessed transformations over many centuries, and faced great challenges dictated by population growth, in implementing a new transformational urban plan. The objectives of such a plan revolve around increasing public and green spaces and designing neighbourhouds in a way that provides the basic needs of residents and promotes the mobility of pedestrians and cyclists, which contributes to reducing congestion and fostering wellbeing.
Al Tayer paid a visit to the La Sagrera metro station to check the impact of its urban transformation from a train station to a linear garden. He rounded off his tour by reviewing the best practices in planning and operating public transportation, initiatives, and projects as well as the transportation plan 2020-2025.
Al Tayer stressed the significance of this visit in reviewing leading experiences in urban and transportation planning besides identifying the strategic challenges faced by major cities, such as population growth rates, urban expansion and horizontal urban sprawl.
"Sustainability and wellbeing in cities have emerged as key topics for politicians and decision-makers. Under the guidance of His Highness Sheikh Mohammed bin Rashid Al Maktoum, Vice-President, Prime Minister of the UAE, Ruler of Dubai, Dubai has anticipated the challenges faced by cities. In 2021, His Highness announced the Dubai Urban Master Plan 2040, a strategic, flexible transformational plan aimed to rank Dubai as the world's best city for living. The plan outlines an integrated future map for sustainable urban growth in the emirate, focusing on human welfare, promoting wellbeing, and boosting Dubai's global competitiveness.
"The objective of Dubai Urban Master Plan is to provide sustainable and soft mobility options that contribute to facilitating the movement. As per the plan, we strive to have 55% of Dubai's population residing within 800 metres or less from mass transport stations. In addition, we plan to elevate green and recreational spaces by 105% and deliver over 80% of services to the population within 20 minutes of travel.