10 Aug 2023
Awareness campaigns for truck drivers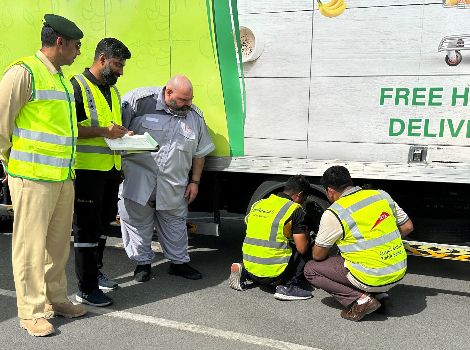 Dubai's Roads and Transport Authority (RTA) has recently carried out, through its Licensing Activities Monitoring and Traffic Departments, many inspection and awareness campaigns targeting truck and heavy vehicle drivers in the Emirate with the aim of promoting and raising the level of traffic safety culture and awareness of heavy vehicle drivers regarding the continuous attention paid to in the technical aspect of heavy vehicles.
These inspection and awareness campaigns resonate with RTA's objectives in enhancing the requirements of the traffic safety strategy and reducing the percentage of accidents resulting from the movement of heavy vehicles and trucks on the streets and roads of Dubai.
These campaigns are conducted in the context of RTA's strategic plans focused on promoting traffic awareness and culture. During these campaigns, RTA held educative workshops tailoured to drivers to ensure their compliance with the technical and traffic safety standards set for the safe movement of trucks on Dubai roads, especially during summer. They also reflect RTA's keenness to make roads safer and realise the vision of our leaders to achieve high traffic safety levels.

800 truck and commercial transport drivers benefitted as the drivers were encouraged to take necessary precautionary measures to ensure the safety of their vehicles, and regular checks of mechanical parts and tyres as part of periodic maintenance, especially during summer and long trips as the scorching heat tends to impact the efficiency of brakes. Drivers were also educated about the importance of complying with the maximum permitted payload to avoid vehicle imbalance as well as observing the applicable rules and regulations.

During the campaigns, which spread across Dubai, truck drivers were offered gifts including First Aid kits, printouts of traffic safety instructions and basic driving information and conditions in four languages. The awareness giveaways were distributed in truck rest stops and lay-bys on Sheikh Mohammed bin Zayed Road, Fruits and Vegetables Market, Emirates Road, Jebel Ali-Lehbab Road, and Jebel Ali Port and Free Zone. The campaigns were conducted in collaboration with RTA's partners namely Dubai Police, Dubai Municipality, DP World, and Continental Tires.

Drivers were interviewed and made aware of the risks of ignoring safe driving practices, observing traffic rules and reminded about the regular checking of the technical issues to which trucks are vulnerable.