23 Jul 2023
Constructing 19 Trucks Rest Stops, Lay-bys in partnership with private sector
(These facilities aim to strengthen Dubai's standing as a global hub for logistical transport)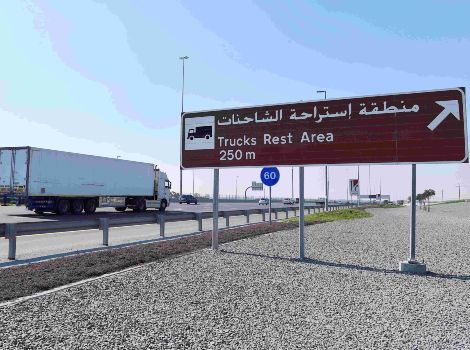 Dubai's Roads and Transport Authority (RTA) is constructing 19 trucks rest stops and lay-bys across several hotspots in Dubai in collaboration with the private sector. The project includes 3 Integrated Trucks Lay-bys: one in partnership with the Abu Dhabi National Oil Company (ADNOC) and two in partnership with Almutakamela Vehicle Testing and Registration. In cooperation with ADNOC, RTA will also construct 16 Trucks Rest Stops across Dubai in six key locations, strategic roads, and logistic cities that attract a huge number of trucks daily. Locations include Sheikh Mohammed bin Zayed Road, Emirates Road, Dubai-Hatta Road, Dubai-Al Ain Road, Jebel Ali – Lehbab Road, and Al Aweer Road. The total area of the 19 trucks rest stops and lay-bys is over 300,000 square metres, with a capacity to accommodate over 1,000 trucks and heavy vehicles.

The three Integrated Trucks Lay-bys provide a host of services that step up the safety and wellbeing of drivers such as diesel-refuelling stations, motels, maintenance workshops, restaurants, administrative buildings, prayer rooms, driving training centres, clinics, pharmacies, exchange shops, laundry, and other support services and facilities for the safety and wellbeing of heavy vehicle drivers. The Truck Rest Stops include service facilities, prayer rooms, diesel refuelling stations, restaurants, maintenance workshops, and rest areas for drivers.

The three Integrated Trucks Lay-bys encompass a total area of over 226,000 square metres, each with a capacity ranging from 120 to 200 trucks and heavy vehicles. The Lay-by undertaken by Almutakamela Vehicle Testing and Registration is located on Sheikh Mohammed bin Zayed Road near Jebel Ali Free Zone and Al Maktoum International Airport. It spans 100,000 square metres with a capacity of about 200 trucks. The second layby, which is undertaken by ADNOC, is situated near Emirates Road, next to the Al Tayy Racetrack. It boasts an area of 76,000 square metres and has a capacity of 150 trucks. The third layby, which is also undertaken by Almutakamela, is located nearby the entry to the Dubai Industrial City (DIC) and covers 51,000 square metres with a capacity of approximately 120 trucks.

On the other hand, each of the Trucks Rest Stops spans an area from 5,000 to 10,000 square metres, with a capacity to accommodate 30 to 40 trucks.

Wellbeing of Drivers

His Excellency Mattar Al Tayer, Director General, Chairman of the Board of Executive Directors, RTA was delighted with this partnership with the private sector and the increased involvement of private firms in infrastructure and service projects.

"The agreement reached with ADNOC and Almutakamela to build and operate these Trucks Rest Stops and Lay-bys aims to raise the profile of Dubai as a global hub for logistical transport besides enhancing the safety and well-being of drivers by providing amenities and services needed in their daily lives," noted Al Tayer.

Traffic Safety

"The construction of trucks rest stops and lay-bys contributes significantly to improving traffic safety, reducing truck related accidents by up to 50%, streamlining the traffic flow during truck ban times, increasing traffic awareness of truck drivers about traffic rules, and resolving the problem of parking trucks on main roads and residential areas. The project provides convenient facilities for truck drivers, especially during the ban timings on trucks movement on some roads, and meets the increasing demand for truck parking spaces, especially given the huge rise in the number of truck trips in Dubai to more than 300,000 trips per day lifting 1.5 metric tonnes of commodities per day," elaborated Al Tayer.

"The project's goal is to provide investors with opportunities to engage in development projects and diversify their investment portfolios. The project's benefits include improving the quality of public services, transferring knowledge from the private sector to the public sector, and training government employees on managing and overseeing this type of long-term projects based on the Build-Operate-Transfer model.

"The selection of the appropriate sites for constructing Integrated Trucks Lay-bys and Rest Stops is based on a set of technical criteria and research designed to maximise the benefits of these facilities and serve the land transport business. The locations were chosen based on the proximity to main roads, strategic areas and logistical cities to provide seamless service to the largest possible number of trucks. It is also governed by the ability to provide safe entrances and exits, while avoiding impacting residential areas, and guaranteeing geographical distribution of the facilities across several highways," explained Al Tayer.

Field Surveys

"RTA assigns top priority to land transport due to its importance to economic development. RTA conducted a comprehensive study of truck movement in Dubai. It comprised field surveys, interviews and workshops with the concerned departments and businesses. It developed a forecasted truck movement model and analysed the requirement for dry ports and cargo collection and distribution centres. The research also evaluated the policies, times and routes of the current trucks movement ban and the need for designated truck roads in addition to organisational and structural aspects related to the management of trucks and the movement of commodities in the Emirate," concluded Al Tayer.