22 Aug 2023
Winning Construction Technology Awards 2023
(The award was won under the Digital Transformation of the Year category)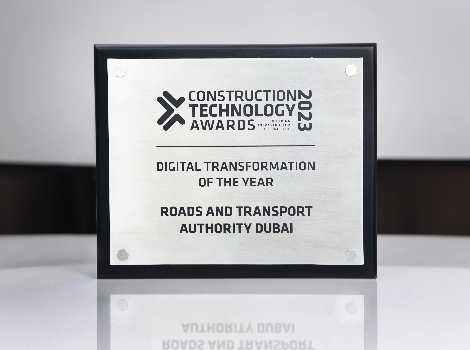 Dubai's Roads and Transport Authority (RTA) has won the Construction Technology Awards 2023 under the Digital Transformation of the Year category. The award acknowledges leading initiatives within the construction industry and fosters excellence and creativity. Winning the award is credited to the Digital Platform for Rail Engineering Information of the Rail Right-Of-Way Department.

It was the first submission of The Rail Right-Of-Way Department for the award, which is presented by the organiser of the Construction Technology Conference and Exhibition 2023. This regional event, which was held in Dubai, drew participants from a range of government and local entities, real estate development firms, and engineering consultancy companies. RTA bagged the award after advancing to the final rounds and outperforming six other nominated entities.

The digital platform

The digital platform efficiently manages information, encompassing over 800,000 documents related to the Dubai Metro's assets, and data of the Railway Agency and associated entities including rail consultants, contractors, and operators. The platform ensures the accuracy, speed and accessibility to information, besides documenting of engineering changes in assets and data management.

It is worth noting that the Construction Technology Conference and Exhibition 2023 focused on sustainability and broadening the use of novel technologies or services. It also tackled the handling of project information management systems, managing enterprise resources, and transforming physical sites into precise digital models.