11 Jul 2023
Dubai Taxi celebrates distinguished employees, showcases top achievements and pioneering services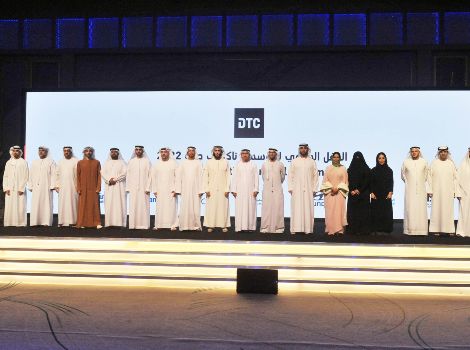 RTA's Dubai Taxi Corporation (DTC) held its annual ceremony to honour distinguished employees in appreciation of their efforts and contributions to DTC's achievements during the past two years.

Employees with 10-25 years of long service were honoured, along with valuable prizes to the winners of DTC's Knights Award for 2021-2022, with two winners each receiving a car. Additionally, the felicitation recognised two individuals from the Exemplary Manager category, ten from the Exemplary Employee category, and four Exceptional Teams category.

Attendees

Attendees of the ceremony included Abdul Mohsen Ibrahim Kalbat, CEO of Rail Agency, and Chairman of DTC Supervisory Board, Mansoor Rahma Al Falasi, CEO of DTC, members of the DTC Supervisory Board, department heads, officials and employees of DTC, as well as several representatives of the supporting agencies. The ceremony honoured Juma Al Majid Est. (Hyundai), Al-Futtaim Group (Famco-Toyota), Akakus Oil Operations Company, Al Etimad Labour Supply, and Belhasa Driving Centre.
Digital Transformation Strategy

"Thanks to the guidance of our leaders and the commitment of our diligent employees, over the past two years, DTC has achieved many milestones that we take pride in," said Mansoor Rahma Al Falasi, CEO of DTC.

"Winning the IDC- Customer Future Experience Awards for digital applications for the DTC School Bus app served as as a highlight of the accomplishment. With a fleet of 945 school buses equipped with cutting-egde tracking technology, that ensures safe and easy transportation services, DTC has succeeded in managing and operating school transport. Under the IDC- Customer Future Experience Awards, DTC also won another international accolade for customer happiness.

According to its digital transformation strategy 2023-2025, DTC has been making consistent efforts as evidenced by the launch of the Oracle platform, which is intended to increase information security by twofold reduce breakdowns by 80%, and provide significant cost savings," explained Al Falasi.
Innovative Initiatives and Projects

Reflecting on the innovative initiatives and projects implemented by DTC, Al Falasi stated that the first investment portfolio for drivers was launched in partnership with the National Bonds, in addition to the asset control centre projects. It also includes the London Taxi service that makes use of the hybrid energy system and commercial agreements signed with various entities.

The ceremony included a short movie showcasing DTC's major accomplishments since its establishment and the developments it has witnessed, in addition to organising an array of entertainment activities and competitions for employees.