24 May 2023
Dubai Taxi wins the BIZZ award for Innovative Service Delivery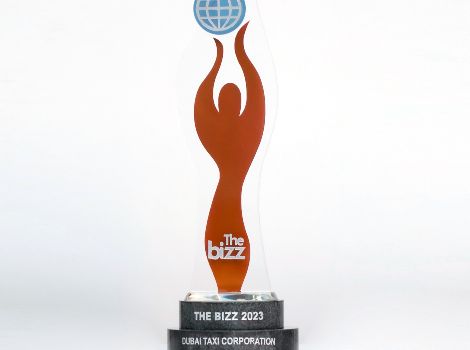 RTA's Dubai Taxi Corporation (DTC) was named by the World Confederation of Businesses (WORLDCOB) as the winner of the prestigious The BIZZ AWARDS, which is awarded to leading companies and establishments worldwide. This award is a recognition of DTC's efforts, performance, and quality of innovative services it offers in line with the world's best excellence practices and creativity standards. Obtaining this award bolsters DTC's pioneering role in providing safe and sustainable digital transportation services.

Winners were unveiled in a special ceremony hosted by WORLDCOB in Houston, USA. A delegation from DTC was present with numerous representatives and executives from prominent global entities.

The BIZZ AWARDS aims to honour top companies from around the globe. DTC was selected for its innovative services and accomplishments over the past three years, which were compatible with the award's criteria encompassing six elements: leadership, management systems, service quality, creativity and innovation, social responsibility and achievements and results.
Sustained pioneering journey

This award symbolises DTC's journey toward excellence and enduring leadership, as it is dedicated to delivering top-notch services and sustained performance to fulfil its strategic goals. These objectives focus on offering transportation services that meet the highest standards in an innovative, unique, digital, and sustainable manner to bring happiness to people. The award also demonstrates DTC's active contribution to solidifying Dubai's leading global standing in transportation and its ability to keep up with the emirate's ongoing development."

The BIZZ AWARDS is one of the most prestigious international accolades that showcase premier organisations across the globe. The award has a select panel of top international experts. Obtaining this award is a coronation of DTC's achievements in recent years and is an illustration of the quality services it delivers to customers. DTC adheres to the highest quality standards in serving the mobility needs of clients through continuous development and innovative services that enhance its standing in the smart transportation industry.

The BIZZ AWARDS was established by WORLDCOB, to bolster global business communities by creating a platform for companies and investors to share data, experiences, and best practices besides enabling benchmarking results for continuous performance improvements of businesses worldwide.
Comprised of thousands of members hailing from 130 countries, WORLDCOB's mission focuses on fostering business development across the globe. It seeks to promote the position and presence of leading companies, expand their global reach, and contribute to their growth and development.