17 Aug 2023
Gearing up for new school year with educational initiatives & activities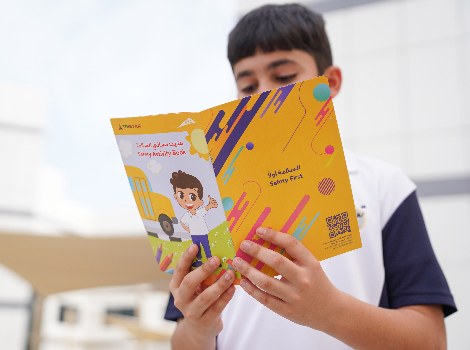 With the new academic year 2023-2024 edging closer, Dubai's Roads and Transport Authority (RTA) is gearing up with an array of educational initiatives and activities tailored to various academic levels. They cater to various members involved in the back-to-school season, including students, parents, and drivers. RTA's initiatives stem from a commitment to ensuring school zones remain free from traffic incidents and casualties. They also aim to enhance traffic behaviour and instil a sense of traffic safety among the youth and community members.

"RTA's awareness and technical teams are preparing to resume activities in schools and surroundings through awareness events, monitoring and adjusting traffic lights timing to ease the flow of traffic in school zones and nearby roads. RTA is aware of the responsibility towards students," said Eng. Maitha bin Adai, CEO of Traffic and Roads Agency, RTA.

"In line with our traffic safety strategy for students, a series of awareness activities have been coordinated with schools and kindergartens. In addition to technical measures, activities encompassed 9 educational events and initiatives for target groups. Educational advertisements will be shown on the streets, and educational videos targeting drivers and parents will be broadcasted via social media. QR codes will be placed in stores selling back-to-school supplies, prompting both students and parents to adhere to safety guidelines while transporting students to and from school or driving in or near school zones," added bin Adai.

"As students return to school, last year's successful awareness initiatives will be resumed such as the Golden Rules for the Safety of Generations, carried out in partnership with RTA's partners, which entailed numerous field activities and gifts for primary and secondary school students. Additionally, the interactive programme targeting high school students will also make a comeback. Students of this stage will benefit from other traffic awareness programmes, such as the programme for visiting patients injured in traffic incidents at Rashid Hospital, and a virtual training programme that offers free training to obtain a virtual driver's license," noted bin Adai.

The CEO of the Traffic and Roads Agency urged school bus drivers and parents who pick and drop their children to schools to adhere to traffic rules, avoid parking in the wrong zones, and not permit their children to cross the streets alone. She stressed that students shouldn't be permitted to get off through the left door of the vehicle, and parents should use the child safety lock for the back doors.

Bin Adai concluded by calling on students to strap on their safety belts even for short distances, as many incidents occur even during short travels from the place of work or home according to international statistics.