10 Sep 2023
Hamdan bin Mohammed approves Dubai Marine Transport Master Plan 2030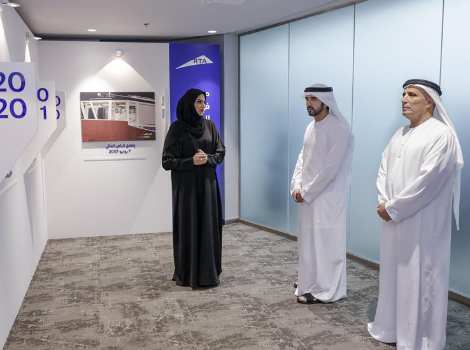 His Highness Sheikh Hamdan bin Mohammed bin Rashid Al Maktoum, Crown Prince of Dubai and Chairman of The Executive Council of Dubai, has approved the Dubai Marine Transport Master Plan 2030. The plan encompasses a 188% expansion of the marine transport network, a 400% increase in passenger lines, and the manufacturing of the world's first electric abra using 3D printing technology.
During his visit to the Roads and Transport Authority (RTA), His Highness reviewed the master plan for scaling up Dubai's marine transport system through to 2030. His Highness was given an overview of key aspects of the plan by His Excellency Mattar Al Tayer, Director General and Chairman of the Board of Executive Directors of the Roads and Transport Authority (RTA).
The plan targets a 51% increase in the number of marine transport users, from 14.7 million to 22.2 million annually by 2030. Additionally, it outlines a 188% increase in the total length of the marine transport network, from 55 km to 158 km. Another key element of the plan will see marine transport stations go up from 48 to 79 stations along the Dubai Creek, Dubai Water Canal, the coastline of the Arabian Gulf and various waterfront projects in accordance with a well-thought-out strategy.
The plan also includes increasing passenger transport lines from seven to 35, marking a 400% surge, besides expanding the marine transport fleet by 32%, from 196 to 258 marine vessels.
3D printed abra
His Highness reviewed RTA's initiative to manufacture the world's first electric abra using 3D printing technology in partnership with the private sector. Designed to carry 20 passengers, the 3D-printed boat features a design that melds aesthetics and heritage cues of the original abras. Aligned with the Dubai 3D Printing Strategy, this initiative slashes manufacturing time by 90% and enables 30% cost savings.
His Highness also reviewed the operational metrics and performance of the Al Garhoud RTA Marine Maintenance Centre (for abras, ferries, and water taxis). The biggest marine maintenance facility in the region, it spans 5,000 square metres, comprising five distinct workshops, a 250-metre pier, a dock capable of accommodating boats up to 32 metres in length, a boat crane with a lifting capacity of up to 100 tonnes, three storage areas, zones designated for marine and external tasks, administrative spaces and an employee rest zone.
The workshop can accommodate 16 boats at a time. Since its inauguration in 2018, the workshop has aided 57 RTA marine transport craft to operate at peak efficiency and has been instrumental in providing technical training to UAE nationals specialising in marine transport maintenance.
The workshop also slashed maintenance costs by about 50%, enhancing the quality of repairs, bolstering the operational readiness of various means of marine transport to 99% and prolonging the lifespan of ferries and water taxis by 25%. The workshop also ensures private abras crossing Dubai Creek have a safety cushion they can rely on and offers marine maintenance services to both government and private entities.
Predictive maintenance
His Highness was also updated on the predictive maintenance system for marine transport modes which involves installing remote monitoring devices and sensors on board marine transport modes. This helps with conducting rigorous testing to validate the precision of data, thereby greatly enhancing safety.
The benefits of the system include achieving a 99% rating on the marine transport availability index, through predictive troubleshooting, precise scheduling of maintenance works, minimising operational downtime, efficient inventory management and meticulous planning of spare part requirements to avoid the stockpiling of materials.
RTA is planning to introduce a real-time monitoring system empowered by Artificial Intelligence to analyse data, predict faults and plan ahead for potential spare part requirements.
Autonomous abra
His Highness Sheikh Hamdan bin Mohammed was also apprised about the trial run of the world's first autonomous electric abra. In its initial phase, the abra successfully cleared Level 4 of the International Driving Automation Index out of a possible six levels.
The trials involved operating the abra entirely autonomously and without the need for a captain between Al Jaddaf Station and Dubai Festival City Marine Transport Station, adhering to the route with 100% accuracy. Efforts are currently underway to successfully complete Level 5 of the Index by 2024.
"The autonomous electric abra was crafted locally, thanks to the dedication of the RTA team. In its design and production, emphasis was placed on retaining the abra's heritage identity. The abra boasts a host of advanced features highlighted by zero carbon emissions, operating and maintenance cost savings of 30% and the elimination of noise compared to diesel-powered abras.

Equipped with two electric motors, it is capable of achieving a maximum speed of seven knots. It is fitted with an autonomous control system and four lithium batteries that ensure an operating time of seven hours. RTA adopted new technologies to design the structure of the autonomous electric abra and used fibreglass in the hull to reduce its weight," explained Al Tayer.
Woman captain waiting in the wings
During the visit, His Highness met with Hanadi Mohammed Al Doseri, the first Emirati woman to captain a mass marine transport vessel. Al Doseri recounted her journey towards securing the qualifications needed to pilot sub-200 tonne ships on coastal voyages. His Highness expressed his appreciation for the outstanding example set by Emirati women in various fields and their relentless pursuit of excellence. He commended Al Doseri for her accomplishments and wished her continued success in her career.

Al Doseri's qualifications include five safety training certificates compliant with the International Convention on Standards of Training, Certification and Watchkeeping for Seafarers (STCW). In addition, Al Doseri has successfully completed three months of maritime service and has received two more specialised training certificates.

She is also licensed to pilot marine craft in the 12-metre and 24-metre categories. To enhance her practical skills, she underwent a comprehensive five-month training programme aboard the Dubai Ferry. Subject to a successful candidate evaluation in December, Al Doseri is on track to secure a license for piloting sub-200-tonne ships on coastal journeys.