03 Aug 2023
Holding innovation labs on legislation, licensing systems, and enhancing financial sustainability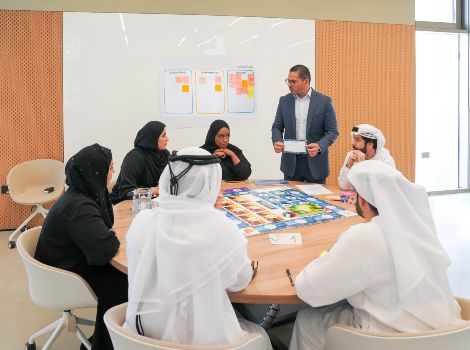 During the first half of 2023, Dubai's Roads and Transport Authority (RTA) held three innovation labs at RTA's Transportation Research and Innovation Pavilion (TRIP) focusing on legislation, licensing systems, and enhancing financial sustainability. The Innovation and Pioneering Department of RTA facilitated the activities of the three innovation labs. RTA's employees participated in the events beside to representatives of government agencies, and private companies including start-ups.

"RTA is focused on fostering innovation by creating a supporting environment for exploration, experimentation, and testing. This initiative is aimed at delivering proactive and comprehensive services that cater to the diverse needs and expectations of customers, community, partners, and stakeholders. By doing so, RTA seeks to improve individuals' wellbeing and happiness," said Fatima Al Mandoos, Director of Innovation and Pioneering, Strategy and Corporate Governance Sector, RTA.
Transportation Legislation and Policies Lab

Under the theme "Pioneering Legislation and Policies for Soft, Integrated, Shared, and Smart Mobility," the Legislation Lab highlighted two focus areas. The first area specialised in legislation and artificial intelligence technology. During this part, participants discussed opportunities to utilise artificial intelligence in shaping a flexible legislative environment, examining both the advantages and disadvantages of artificial intelligence technology within the legislative perspective. They also explored existing laws and fundamentals and methods to adapt and benefit from them. The second area revolved around the legal liability of autonomous vehicles. This section tackled the opportunities and challenges in legislation related to autonomous vehicles. This lab generated 28 proposed ideas.
Sustainable Transport Licensing Systems and Services Laboratory

The Licensing Agency initiated the Government Innovation Lab to advance innovative and forward-thinking sustainable services and licensing systems. It shed light on improving environmental sustainability and minimising the carbon footprint in line with RTA's ambition to cut carbon emissions and achieve neutrality by 2050. The Licensing Agency held a government innovation lab spotlighting the role of transportation means in adopting environmental sustainability and their needs. The lab generated 37 ideas, leading to the development of 4 innovative initiatives and projects.
Enhancing Financial Sustainability Lab

The Financial Sustainability and Operational Efficiency Laboratory delved into opportunities and challenges across three main areas: enabling financial sustainability, attracting foreign investment, and fostering partnerships with the private sector. The session generated 62 ideas, and 8 innovative initiatives and projects.

"RTA is developing executive plans to execute these initiatives and projects, conducting preliminary tests for services as they prepare to move into the launch and expansion stages. RTA's Mobility Research and Innovation Centre enabled employees to forge partnerships with researchers and academics. It created a suitable work environment for testing, research and development, thus elevating RTA's global standing in innovations that facilitate seamless and sustainable mobility," concluded Al Mandoos.

It is worth mentioning that RTA's plan for innovation labs spans 2023 - 2025. Three labs were held in the first half of this year focusing on the legislative structure of soft, integrated, and smart mobility, financial sustainability, operational efficiency, and licensing systems for sustainable transportation systems.