25 Jul 2023
Marine transport services to be resumed between Dubai and Sharjah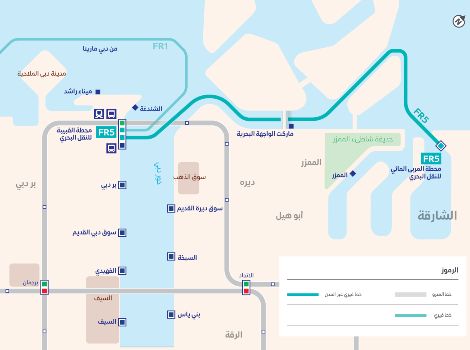 Dubai's Roads and Transport Authority (RTA) is set to resume the operation of the marine transportation line via Dubai Ferry between Dubai and Sharjah starting Friday, August 4th, 2023. The marine transport service will be running 8 journeys a day from Monday-Thursday (weekdays), and 6 journeys from Friday-Sunday (weekends).

This marine service, the first of its kind connecting Dubai with other emirates, shuttles between Al Ghubaiba Marine Station in Dubai and Aquarium Marine Station in Sharjah, collaboration with the Roads and Transport Authority in Sharjah.

The introduction of the Dubai Ferry service is part of the cooperative efforts between Dubai and Sharjah to offer additional mobility choices between the two emirates, ease traffic intensity, and use safe maritime transport given the extended coastal area of the two emirates.

The journey between Al Ghubaiba Station and the Sharjah Aquarium Station takes about 35 minutes. On weekdays, there will be two morning journeys from Sharjah at 7:00 and 8:30 along with one morning journey from Dubai at 7:45. In the evening, there will be two journeys from Sharjah at 16:45 and 18:15, and three journeys from Dubai at 16:00, 17:30 and 19:00.

From Friday to Sunday, there will be six journeys, three journeys from each side starting from noon. Departure times from Sharjah will be at 14:00, 16:00, and 18:00, whereas the journeys from Dubai will start at 15:00, 17:00 and 20:00.

Ticket fares for a single journey are offered at 15 AED for the Silver Class and 25 AED for the Gold Class but will be free of charge for People of Determination and children under five. Clients can pay the fare at the Customers Services Desk at the Station, use nol card, or buy tickets online through (https://marine.rta.ae).