20 Jun 2023
Operating individual mobility stations at 11 sites in Hatta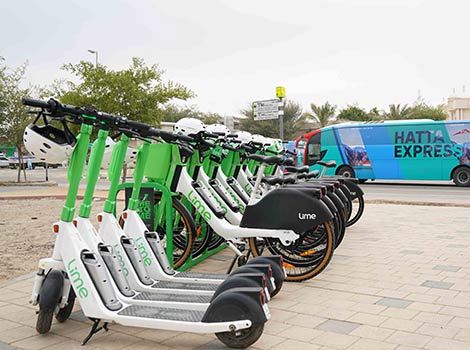 Dubai's Roads and Transport Authority (RTA) has started operating individual mobility stations for bikes and e-scooters at 11 sites along 9 km route in Hatta. These stations feature a variety of soft mobility means like bikes, mountain bikes, and e-scooters, facilitated by the global micro-mobility provider, Lime.
RTA is eager to develop soft mobility solutions in Hatta in order to provide diverse options for individual mobility experiences that matches the ongoing advancements in the area. Hatta distinguishes itself via its unique geographical location, environmental and cultural diversity, and a plethora of entertainment options that caters to the needs of the community.
During the first quarter of 2023, the trial phase of operating bike and e-scooter stations garnered a significant turnout from diverse segments of the community. 1,902 trips were recorded in the first quarter, with e-scooters accounting for 984 and bikes and mountain bikes contributing the remaining 918 trips. Statistics indicated that 93% were satisfied with the services provided during that period.
Visitors and residents can enjoy a breathtaking landscape and the mountainous environment of Hatta, renowned as a significant tourist destination in Dubai, by renting individual mobility means such as bikes, e-scooters, and mountain bikes, totalling 600 shared mobility means. They include 250 e-scooters, 250 bikes, and 150 mountain bikes that can be driven on tracks stretching 11.5 km. The individual mobility means operation stations and rest stops for riders are spread across the tourist hotspots in Hatta. The stations are located at 11 sites, notably the Hatta Heritage Village, next to Wadi Hatta Park, Hatta Hill Park, the public bus station, and Hatta Valley.