21 Apr 2022
Outreach messages to taxi and truck drivers with Iftars
(8000 awareness leaflets and Iftars during Ramadan)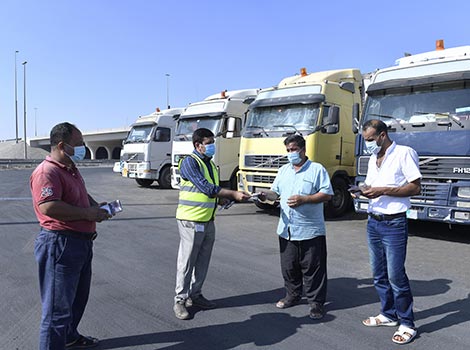 Dubai's Roads and Transport Authority (RTA) cautioned motorists against driving while feeling exhausted or drowsy, especially during the holy month of Ramadan, where the concentration of some motorists drops due to the change in eating and sleeping habits.
For this purpose, RTA has prepared an awareness plan to deliver several educative messages to taxi and truck drivers by distributing to them awareness leaflets together with Iftar meals under the theme: Enjoy Your Iftar and Focus on Your Way. The campaign is run in cooperation with our partners Emirates General Petroleum Corporation "Emarat", Continental Tires, Al Ansari Exchange and Tokio Marine & Nichido Fire Insurance Company.
RTA has designed awareness messages for broadcasting via social media channels, sites, and messaging signs at the customer service centres of RTA. It also organised an initiative with driving institutes in Dubai, whereby any trainee driver who passes the driving test will be presented with an Iftar voucher including important instructions about safe driving, especially during Ramadan. About 8000 awareness leaflets about safe driving are being distributed during the holy month.

The variation of sleeping and duty timings during Ramadan tends to impact the attention of fasting motorists; which is visible at the time of driving from the workplace to home where the driver's concentration drops to the minimum; which impacts the ability of the driver to make the right decision at the right time. Therefore, extra caution & attention is required when driving from the workplace back to home to avoid traffic incidents.
Most traffic accidents that take place in Ramadan are attributed to the lack of leaving a safe distance between vehicles. Drivers are advised to leave a sufficient distance between vehicles and switch on air-conditioners while driving as the hot conditions give rise to the feeling of exhaustion. The driver has to maintain an upright position while seated and keep the head raised while driving.
Motorists are recommended to take a sufficient amount of rest before sitting behind the wheel, and cease driving once feeling very tired, drowsy or yawning. Relaxing and resting for a short period may help the driver to complete the journey safely. Once drivers hear the call for Maghreb prayer while driving, they have to stop to take a light Iftar, even if a glass of water and a few dates, before resuming the journey.
Trucks Prohibited Timings During Ramadan
Trucks prohibited movement timings in Ramadan on E11 Road would be modified in the sector from Sharjah border to the 7th interchange of the Sheikh Zayed Road (via Ittihad Road, Sheikh Rashid Road and Sheikh Zayed Road). Trucks movement will be prohibited in the downtown areas of Deira and Bur Dubai from 7:00 am to 11:00 pm instead of 6:00 am to 10:00 pm. The prohibited movement timing will also be modified in the morning on roads subject to three prohibited timings per day. Accordingly, the prohibited timing will be from 07:30 am to 09:30 am, instead of the timing during other months of the year (06:30 to 08:30). And from 02:00 pm up to 04:00 pm instead of the timing of the rest of the year (01:00 pm to 03:00 pm). The movement of trucks is prohibited throughout the year through Al Shindagha Tunnel, Al Maktoum Bridge, Floating Bridge, Al Garhoud Bridge, Business Bay Bridge, Infinity Bridge, and the Airport Tunnel. On Fridays, the prohibited timing during Ramadan will be from 12:00 (noon) to 03:00 pm instead of 01:00 pm to 03:00 pm.
Tips for drivers:
1. Avoid driving after a heavy meal, especially after fasting.
2. Be patient when driving during Ramadan, and leave a safe distance from the vehicle in front of you.
3. Expect congestion and make more time to reach your destination to avoid potential stress during driving.
4. Avoid arguing with some motorists flouting traffic rules, and keep in-lane
5. Do you know that sleeping inside a vehicle while keeping all windows closed and the A/C switched on in closed areas can cause suffocation and death within less than an hour?
6. If you are a kind of person who tends to be stressed during fasting, better leave your vehicle and use public transport to reach safely to your destination.