26 May 2023
Refurbishing 60k uniforms through Kiswat Khair initiative
(17 public and private entities collaborated in the 5th edition of the initiative )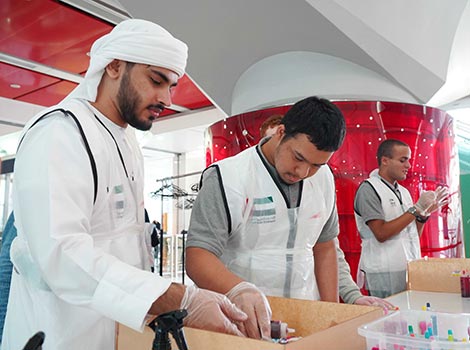 Dubai's Roads and Transport Authority (RTA) has retrofitted and recycled 60,000 pieces of official uniforms in the 5th annual Kiswat Khair (Clothes for Good) initiative, which took place at Etisalat by e& Metro Station with the collaboration of students and people of determination, as well as 17 public and private entities.

The used uniforms were donated by entities that included Dubai Police, Dubai Electricity and Water Authority (DEWA), Dubai Municipality, General Directorate of Civil Defence, General Directorate of Residency and Foreigners Affairs, Dubai Taxi Corporation, Dubai Academic Health Corporation, Keolis MHI, Talabat, City Centre Deira, Dubai Multi Commodities Centre, Enova by Veolia, Emirates National Oil Company Limited (ENOC), First Security Group, Alstom, Centelec GTS Middle East Trading, and Al Mawakeb School.

Kiswat Khair Student and POD Participation
Rowdah Al Mehrizi, Director of Marketing & Corporate Communication, Corporate Administrative Support Services Sector, RTA, said: "In the fifth edition of the Kiswat Khair initiative, students and people of determination supported the charitable efforts to retrofit the uniforms of RTA's parking inspectors as well as bus and taxi drivers. Uniforms also included those of technical staff members of different public and private entities in Dubai, which were retrofitted, recycled, and distributed to those in need outside the country. The initiative successfully retrofitted a total of 60,000 pieces of clothing.

"In its 2022 edition, the initiative successfully recycled 35,350 official uniforms. Building on the success of the past, RTA planned to broaden the number of participants to reach the maximum number of beneficiaries. The initiative reflects RTA's corporate values of fostering tolerance and teamwork. It also highlights continuous efforts to involve a diverse range of participants, including people of determination and volunteers from different emirates. The volunteers contributed to preparing, cutting, adjusting, ironing, and packing clothing items to fit the intended use and bring happiness to recipients," added Al Mehrizi.