31 Aug 2023
Revamping 4 traditional abra stations along Dubai Creek
(The redevelopment of Bur Dubai Station catered to maintaining the cultural identity and increasing the capacity of the station by 33%)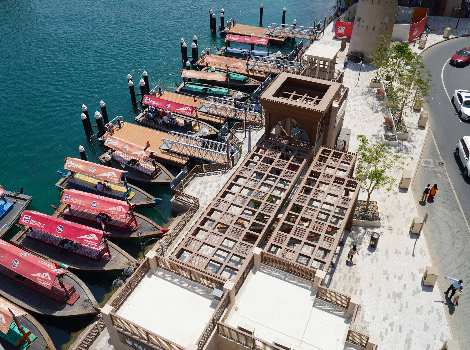 His Excellency Mattar Al Tayer, Director-General, Chairman of the Board of Executive Directors of Dubai's Roads and Transport Authority (RTA) announced the completion of the revamping of four traditional abra stations along Dubai Creek. The project aimed to enhance the experience of abra riders, and step-up security & safety at marine transport stations used by 14 million riders annually. The project also aimed to fulfil the requirements of the Dubai Universal Design Code for People of Determination and increase the capacity of Bur Dubai Station by 33%.

"The launch of this project is part of RTA's master plan for overhauling marine transport systems in Dubai, which is recognised as a primary mobility mode, and enriching the marine transport network in the emirate. The plan envisages the development of four key stations: Bur Dubai Model Station, Deira Old Souq Station, Dubai Old Souq Station, and Sabkha Station," explained Al Tayer.

"Marine transport has seen consistent growth in terms of the transportation modes, stations, and riders since the inauguration of the Dubai Water Canal linking the Dubai Creek to the coastal area,. The sector is poised to see further improvement with the completion of the urban and touristic amenities on the shores of the canal as well as the construction of marine stations. It plans to make marine transport means the ideal mobility choice for citizens, residents and tourists savouring picturesque tourist and urban structures overlooking the Dubai Creek, Water Canal and beaches.

"The revamping of Bur Dubai model station took into consideration maintaining the historic and cultural identity, providing advanced amenities for users, building a sheltered outdoor space, offering retail outlets to serve abra riders and visitors, and upgrading the technological systems of the station. In a commitment to sustainability, the materials used in construction are environmentally friendly and durable, which will cut maintenance costs and extend asset lifespan by 10%, besides reducing carbon emissions.

"The project also encompassed upgrading the lighting of stations and marinas. RTA had already started the revamping of the Deira Old Souq station and charted plans to develop the Old Dubai Souq and Al Sabkha stations in the fourth quarter of 2024," concluded Al Tayer.

RTA has deployed a predictive maintenance system involving the installation of remote monitoring devices & sensors onboard marine transport modes, and conducts rigorous testing to validate the precision of the data.

The benefits of the system includes achieving an impressive 97% rating on the marine means availability index, and considerable savings in maintenance costs, through predictive troubleshooting, precise scheduling of maintenance works, minimising operational downtime, efficient inventory management, and meticulous planning of spare part requirements to avoid the stockpiling of materials.

RTA is planning to introduce a real-time monitoring system empowered by artificial intelligence to analyse data, predict faults and plan for the required spare parts.