30 May 2023
RTA elevates mobility services through data, Metaverse, and innovation in cooperation with Microsoft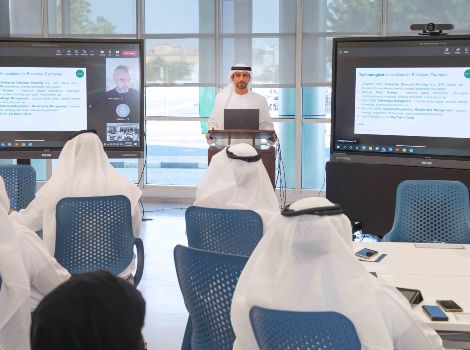 Dubai's Roads and Transport Authority (RTA) announced its collaboration with Microsoft to harness the power of the Microsoft Cloud to promote data-driven mobility services and own an innovative hub utilising Metaverse technologies to enhance the experience of the residents and visitors of Dubai. This cooperation comes in line with the RTA Strategic drive of envisioning the future in line with the UAE's vision of the digital government, besides boosting cooperation between public and private agencies.

The two entities launched an initiative called "AI Business School," the first of its kind across the MENA region, including experts from Microsoft and INSEAD. It is considered one of the largest sessions for supervisory leaders in digital leadership. The initiative focused on RTA's leaders to prepare for developing digital leaders capable of using artificial intelligence concepts in their work.

"The next generation of drivers and passengers will engage with our services in ways we could not have envisaged just a decade ago," said Mohammed Al Mudharreb, CEO of Corporate Technology Support Services, Roads and Transport Authority. "Our work with Microsoft will encompass a range of new and innovative digital use cases, such as business intelligence, data analytics, and Web 3.0 experiences from the Metaverse."

RTA is taking further steps on a journey that will enable data-driven mobility throughout all mobility means based on three pillars. The first pillar is data and governance strategy, where Microsoft will work with RTA to establish best practice frameworks and policies for security and compliance.

The second pillar will involve the creation of an innovation hub where technology experts from both Microsoft and RTA will explore the possibilities of data gathering and leveraging it, considering a range of use cases including those that touch on Web 3.0 and the use of Metaverse technologies.

The third pillar calls for the related skill enhancement of RTA employees and collaboration between the two parties on relevant mobility use cases.

"Microsoft is delighted to work with RTA on what I am sure will be a deeply rewarding experience for both parties," said Tareq Hijazi, Director, Public Sector, Microsoft UAE. "RTA has always strived to elevate the services it offers, aligning with Dubai's aspirations, which today is the home of innovation. This partnership will boost RTA's digital transformation, which aims to adopt state-of-the-art technologies, such as Metaverse, which is currently considered one of the pivotal technologies enabling virtual collaboration between employees, customers and partners. We look forward to seeing RTA implement these technologies in a way that enhances its workforce and contributes to enabling it to benefit from the latest technologies."

It is worth noting that the public-private partnership is part of the government's goals in the UAE that enables the interaction and exchange of best international practices and contributes to achieving RTA's vision and aspirations regionally and globally.