08 Sep 2023
16.8 million maintenance hours devoted to Dubai Metro since 2009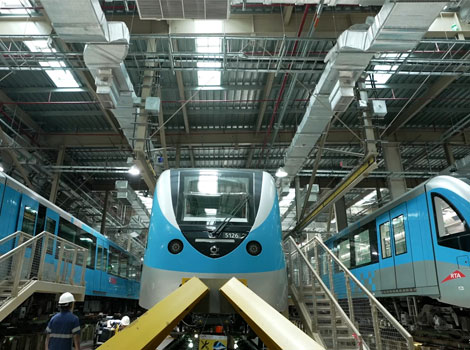 Dubai's Metro has set a new milestone in operational excellence, logging more than 16.8 million hours of specialised maintenance work since its inception in 2009, covering carriages, rails and tunnel maintenance. Managed by the Roads and Transport Authority (RTA), the urban rail service has also achieved a punctuality rate of 99.7%, exceeding international safety benchmarks.
Since its inauguration 14 years ago, Dubai Metro has also completed over 1 million kilometres in travel distance, demonstrating high levels of operational sustainability. Maintenance teams have covered 30,000 kilometers on foot during their inspection tours. Leveraging advanced technology, RTA has employed specialised apps and systems to streamline maintenance activities, aligning with its ambitious paperless strategy and plans to raise efficiency. These milestones reaffirm Dubai Metro's commitment to setting global standards in urban transportation.
Specialised management
From the outset, RTA has been keen to ensure the highest global standards of maintenance for the metro system. The process, which skilled professionals with international experts oversaw, was dedicated to preserving the metro's infrastructure, trains, stations and systems. Over the last 14 years, RTA strived to sustain the metro's assets, using cutting-edge technology to raise maintenance efficiency and ensure a seamless and high quality user experience.
Maintenance programmes
RTA conducts two categories of preventive maintenance: the first, light maintenance conducted every 14 days or quarterly and the second, overhaul (comprehensive) maintenance. The latter, which involves periodic inspections and overhauling of trains based on mileage, is routinely performed for each train after every 750,000 km.
Each train undergoes a 15-day overhauling process. About 1 million manhours were devoted to meticulously maintain 79 trains and ensure their optimal performance. A dedicated team of 70 employees conducts maintenance working around the clock. Overhauls are conducted in a fully-equipped workshop located at the Al Qusais Depot. The Dubai Metro's fleet boasts 129 trains, comprising 50 modern units and the initial batch of 79 trains, which have recently undergone maintenance.
With Dubai Metro covering a total of over 1 million kilometres so far, it is currently conducting its second overhaul maintenance, the highest level of an overhaul. This process involves the inspection and refurbishment of all 14 train systems, encompassing components like the metro carriage systems, gear unit, traction motor, brake system, train door system, pneumatic valves and air conditioning systems.
Rail grinding
Since the metro's inception, overhauling teams have undertaken rail grinding for a combined length of 800 km. They utilised the world's most sophisticated rail refurbishment equipment, which automatically grinds rails to ensure optimal alignment between rails and train wheels. It prevents potential breaking of rails and extends the lifespan of the train infrastructure. Additionally, they employed state-of-the-art cameras and laser technology to meticulously scan rail sections and determine the most suitable maintenance system that guarantees smooth train operations. In doing so, RTA has seamlessly transitioned to an advanced preventive maintenance system, aligning with one of its core strategic goals of asset sustainability.
Innovation
RTA began integrating modern technologies in overhauling the Dubai Metro, using drones to examine and inspect Dubai Metro tunnels extending 14 km on both Red and Green Lines. Using drones enables a precise and fast inspection of the condition of assets. They come equipped with multiple cameras, including a high-resolution one to monitor the condition of the tunnels.
Infrared technology is utilised to monitor the walls of train tunnels, providing instant reporting on asset conditions and maintenance activities. This technology seamlessly integrates with RTA's maintenance management system, offering a digital platform for inspection tasks, which minimises the possibility of human errors. In addition to the use of (SightCall) technology by First Line Response Teams, which is an augmented reality application on mobile devices that enables experts to the teams to obtain instant information remotely to support diagnosis and quick resolution of complex system faults. It proved a significant driver of performance improvement since its deployment, and as a result, there has been a substantial reduction in response time.
Security and safety
Security and safety remain paramount for RTA. The metro network has over 10,000 CCTV cameras to oversee all train facilities, ensuring passenger safety. Throughout the year, meticulous maintenance is conducted on over 2,000 informational screens to guarantee peak performance, assisting passengers on all their journeys.
Unique design
Dubai Metro is the backbone of Dubai's public transport systems, linking vital areas across the city. Apart from providing safe and smooth mobility for riders, it represents an iconic addition to Dubai's urban infrastructure and a major accomplishment. It employs cutting-edge train manufacturing technology and serves as a comprehensive transit system. It features 900 automated fare gates, 548 escalators, 273 elevators, 96 electric walkways, and air-conditioned footbridges, all ensuring a smooth and safe transportation experience for all its users.
Building local capacities
RTA has prioritised the development and training of Emirati engineering and technical talent in train maintenance. It recruits fresh engineering graduates and equips them with skills through field training, factory tours, and participation in international workshops and conferences. These engineers operate railways, train systems, electrical systems, and Dubai Metro's infrastructure.