18 Jul 2023
Honouring the best company and 200 taxi drivers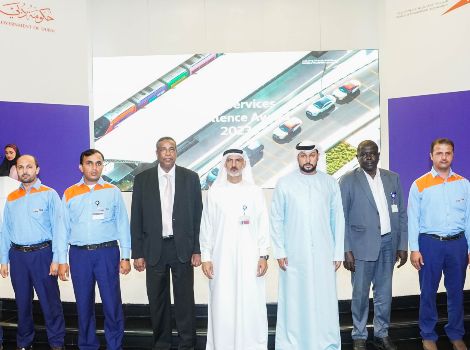 Dubai's Roads and Transport Authority (RTA) recognised Metro Taxi Company as the best taxi company in Dubai. RTA also commended 200 taxi drivers as part of an event celebrating the Taxi Sector Excellence Award. This award is hosted by RTA to acknowledge the best performer during key events taking place in Dubai.

The felicitation was attended by Ahmed Hashim Bahrozyan, CEO of Public Transport Agency, Sultan Ibrahim Al Akraf, Director of Drivers Affairs, Public Transport Agency, Head of the Follow-up Committee for the Implementation of RTA's Taxi Excellence Award, along with various directors and representatives from taxi companies.

The purpose of this award is to enhance customer services during mega events in Dubai. It seeks to foster a competitive environment among companies to elevate traffic safety and awareness standards as well as maximise customer happiness. The award also aims to inspire drivers to strive for excellence, adhere to the highest quality standards, and demonstrate leadership in service provision.

RTA has established specific criteria for selecting the outstanding company during key events held in the emirate based on certain criteria such as the lowest number of complaints, the highest rating given by drivers for trips, the lowest rate of quality violations, and the highest number of trips conducted by two-shift vehicles. The top 200 drivers achieving the highest rating for trips and minimal complaints were selected.

In response to this gesture, the awarded companies and drivers expressed their gratitude and joy for this gesture, which reflects RTA's commitment to its partners in the taxi sector. They emphasized the shared vision of ensuring customer satisfaction and strict adherence to the RTA's regulations and traffic laws.
RTA applauds the intense competition amongst Dubai's taxi companies, including the considerable efforts put forth by all establishments. These endeavours have significantly contributed to marking the highest growth in the taxi sector over the past years across all channels of e-hailing, smart rental services, and the Hala Taxi service. The analysis of figures and ratios of the sector during the first quarter of 2023 reflects the unprecedented thriving economy of Dubai, which cements its standing as a prominent global hub for investment and tourism.

RTA is dedicated to bolstering taxi services as they are a vital mode of daily transport for Dubai's inhabitants. Dubai's taxi sector has experienced a robust growth rate hitting a remarkable 6% during the first quarter of 2023, in comparison to the corresponding period of the previous year. This impressive figure surpasses the levels reported during the same period in 2019 by a significant margin of 5%. In the first quarter of 2023, the number of taxi trips amounted to a staggering 27.3 million, showcasing a consistent upward trend when compared to the corresponding periods in previous years. The numbers were 26 million trips in 2022, 19.2 million trips in 2021, 23.3 million trips in 2020, and 26.1 million trips in 2019.