21 May 2023
RTA launches Enterprise Platform to design and develop AI solutions
(The platform assists in the predictive maintenance of roads & bridges and crowd management)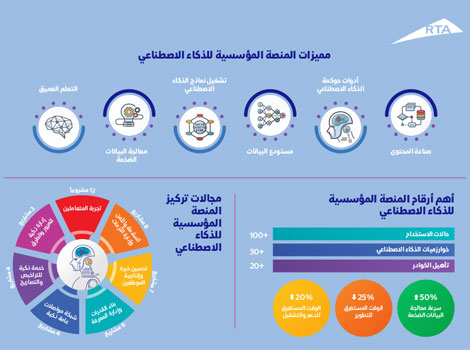 Dubai's Roads and Transport Authority (RTA) has launched a comprehensive Enterprise Platform for designing and developing AI and data science solutions at world-class standards in collaboration with top global firms. It is characterised by an exceptional ability to process RTA-owned data and restructure it for training machine learning models that foster innovation and leadership across a variety of operations, including predictive maintenance for roads and bridges, public transportation route planning, crowd management and more.

His Excellency Mattar Al Tayer, Director-General, Chairman of the Board of Executive Directors, RTA, said: "The launch of this platform affirms RTA's commitment to advancing Dubai's transition into the world's smartest city. By leveraging AI, the platform aims to foster residents' wellbeing and boost sustainability and service efficiency."

"RTA boasts one of the UAE's largest big data platforms in terms of storage capacity. It has been linked with the AI platform, to benefit from the existing historical data and develop use cases that meet RTA's strategic and operational requirements. Applications include analysing traffic data and identifying patterns and forecasts, which contributes to an efficient road network planning and reduces traffic congestion," noted Al Tayer.

"The AI platform constitutes a foundation for undertaking a range of projects within RTA's AI project roadmap. It covers more than 100 use cases across various domains that cover predictive maintenance for RTA's assets and properties as well as offering AI-integrated smart services to enhance both customer and employee experiences and expedite the processing of administrative tasks.

"The use of predictive maintenance of roads and bridges, public transportation network planning, and crowds' management are key use cases that mark RTA's direction of incorporating AI technologies in all systems by 2031. It conforms to the UAE's AI strategy and illustrates the importance of data and AI in supporting decision-making and anticipating future requirements. Ultimately, it contributes to positioning RTA among the leading local, regional and global government agencies," explained Al Tayer.

The AI platform stands out for its ability to train deep machine learning models and offers numerous pre-built algorithms for machine learning, thus, eliminating the need for source code writing. It also provides a mechanism for comparing algorithm performance in terms of speed and accuracy, allowing the selection of the most suitable one to be used. It also empowers RTA to develop AI use cases, integrate them into various systems like websites and digital apps in addition to monitoring machine learning model performance, and implementing a mechanism to interpret AI model decisions. As such, it ensures that AI models do not make decisions incompatible with the AI principles and ethics set by the Dubai Digital Authority.

RTA has trained several Emiratis in leadership, supervisory and technical roles to empower them to analyse data and extract information that supports decision-making, and develops use cases on the RTA's AI platform, which will also boost the reliance on in-house resources in encouraging development across the board.