04 Jun 2023
RTA operates seasonal network for marine transit services
(The network is characterised by efficient all-season functionality)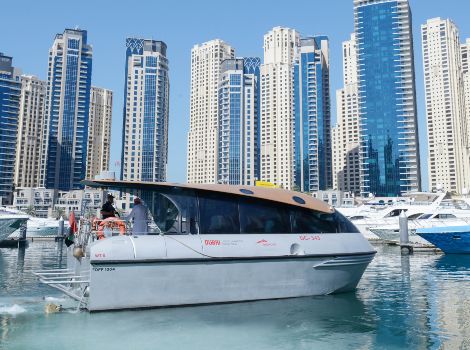 Dubai's Roads and Transport Authority (RTA) commenced the implementation of a seasonal network schedule for marine transport services. This initiative seeks to leverage big data to analyse traffic and ridership to conform with timetables and their frequency according to the seasons and different occasions.

This initiative targets all operating marine transport services including Dubai Ferry, Abras, water taxis, and water buses. The operating times are altered according to the nature of each season and the movement of Dubai's residents throughout the year. The updating of operational schedules is undertaken in coordination with the Department of Planning and Business Development at the Public Transport Agency.

"The seasonal operational network of marine transport services is marked by enterprise agility accuracy and compatibility with the nature of the operating seasons according to well-rehearsed plans set by RTA in this field based on international best practices," said Nabil Yousef Al Ali, Director of Marine Transport, Public Transport Agency, RTA.

"RTA's shift to the summer mode is leveraged by big data that encapsulates all information relevant to marine transport services. This includes ridership, revenue, and operational rates that enrich service improvement studies and significantly contribute to improving network efficiency.

"Leveraging big data has enabled greater flexibility in devising and implementing this seasonal operational network initiative for marine transport. It operates based on a methodical approach that employs predictive analysis for scrutinising network data, foreseeing the effects of changes, and its flexibility in operating times, journey delay times, and the ridership and the ratios of works and revenues, and the ridership of marine transport," he added.

"The scope of the project's study included an internal algorithm for analysing and treating big data from multiple sources. It also entailed mapping out a flexible operational plan for a marine transit network that can also be used in analysing future data of this sector," noted Nabil Al Ali.

"When developing the initiative, it was taken into account that it does not affect the quality of services provided to customers and that it contributes to improving the occupancy rate of marine transit means, while reducing operational costs at the same time," concluded Nabil Al Ali.