28 May 2023
Strategy to transition to zero-emissions operations by 2050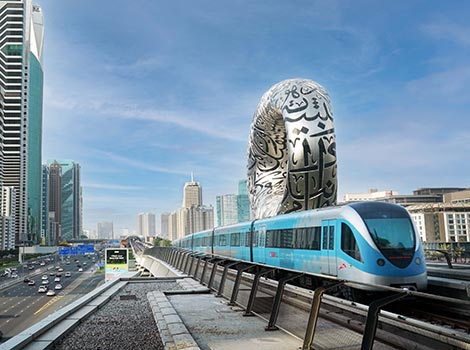 Dubai's Roads and Transport Authority (RTA) has rolled out its 'Zero-Emissions Public Transportation in Dubai 2050' strategy, which makes it the first Middle Eastern agency to develop a long-term strategy for migrating towards Net-Zero Emission Public Transport by 2050. With this strategy, RTA aims to contribute to mitigating climate change and minimise its carbon footprint across three areas: public transportation, buildings and related facilities, and waste management.
The new strategy is aligned with UAE's preparations for COP28 and the UAE Net Zero by 2050 Strategic Initiative, and is a part of RTA's ongoing efforts to advance sustainability maturity levels in roads and transportation and achieve global leadership in sustainable mobility. It seeks to bolster the flexibility of public transport infrastructure and its impact on climate change in line with the UAE Net Zero by 2050 Strategic Initiative, transitioning from pledges to tangible achievements.
Consistent with the goal of the Dubai Economic Agenda D33 to consolidate the emirate's status as one of the world's top urban economies, RTA's new strategy aims to achieve multiple objectives over the coming years. The primary objectives include the decarbonisation of all taxis, limousines, and public buses, designing buildings with near-zero energy consumption, sourcing energy from renewable sources, and eliminating municipal waste by sending zero waste to landfills. The strategy will result in reducing carbon dioxide emissions by 10 million tonnes and realising financial savings worth AED3.3 billion in comparison to current operations.
Integrated strategy
His Excellency Mattar Al Tayer, Director-General and Chairman of the Board of Executive Directors, RTA said: "The new strategy outlines a comprehensive approach to sustainability within RTA. Its primary objective is to enhance sustainability and reduce carbon dioxide emissions. At the same time, it contributes to realising RTA's mission of achieving global leadership in smooth and sustainable mobility through innovative roads and transport services that elevate the customer experience to world-class standards.
"The new strategy encompasses ten initiatives, covering various RTA sectors and agencies, in addition to partnerships with the private sector that contribute to implementing the strategy over five years. The strategy will review, adjust and align future goals with changing circumstances.
"Under the theme 'Zero-Emissions Public Transportation in Dubai 2050', the strategy is aligned with the UAE's commitments to environmental and sustainability goals at global, national and local levels such as the Paris Climate Agreement and the United Nations Sustainable Development Goals. It is also consistent with national strategies such as the UAE Net Zero 2050 Strategic Initiative, The UAE's Green Agenda - 2030, National Climate Change Plan of the UAE 2050 and the UAE Energy Strategy 2050.
"The strategy is also linked to local initiatives, such as Dubai Carbon Abatement Strategy 2030, the Clean Energy Strategy 2050, Dubai Demand Side Management Strategy 2030, the waste management plan in Dubai, Dubai Climate Change Adaptation Strategy, and other relevant strategies, agreements and initiatives," added Al Tayer.
RTA's Board of Executive Directors reflected on various aspects, opportunities, and challenges associated with the new strategy and its implementation. These include the costs of novel green technologies, the distribution of targets and their review over time, the importance of the availability of energy technology providers, particularly for electric buses and hydrogen fuel production stations, and other factors that contribute to the execution of the new strategy.
Taxis and buses
The new strategy specifies the target rates to be achieved over the upcoming years to reach net-zero emissions by 2050 in the three categories, namely: green public transportation, buildings and facilities, and waste management. It entails converting 10% of public transport buses into electric and hydrogen buses by 2030, which will be expanded to 20% in 2035, 40% in 2040, 80% in 2045, and ultimately 100% by 2050. It also encompasses the conversion of 30% of taxis and limousines in the emirate to electric and hydrogen vehicles by 2030, which will be increased to 50% by 2035 and 100% by 2040.
The plan aims to convert 10% of DTC's school buses into electric and hydrogen buses by 2030, which will be raised to 30% in 2035, 50% in 2040, 80% in 2045, and 100% by 2050.
Buildings and facilities
The strategy entails retrofitting RTA's buildings and facilities with solar cell systems. A total of 24 buildings and facilities will see the installation of solar panels before 2025 and the scope of this will be extended to all other buildings and facilities according to feasibility studies. The goal is to retrofit and upgrade 74% of the buildings by 2030, expanding it to 83% by 2035, and finally achieving 100% by 2045. New buildings will be near zero energy, starting in 2025.
Existing streetlights will also be retrofitted so that all of them are 100% energy efficient, provided the application continues on all new projects.
Waste management
Regarding waste management, programmes will be implemented to reuse and recycle 100% of municipal waste by 2030, thus achieving the goal of zero municipal waste to landfills, as well as increasing the use of recycled water in RTA's buildings and facilities to 40% by 2050.
Exceptional achievements
RTA has recorded significant accomplishments in sustainability. From 2014 to 2022, its energy and green economy initiatives have contributed to saving electricity by approximately 360 gigawatt-hours, and water savings of 300 million gallons, as well as saving around 88 million litres of gasoline, and 10 million litres of diesel. This is equivalent to avoiding 416,000 tonnes of equivalent emissions, yielding savings of approximately AED420 million.
RTA is the world's first roads and public transportation entity to release a sustainability report adhering to the Global Reporting Initiative (GRI) standards and the international standard: ISAE3000 in 2018. In 2020, RTA also signed the United Nations Global Charter for Sustainable Development. This was achieved after aligning the data in the sustainability reports issued with the UN's goals that address global challenges, including poverty, inequality, climate, environmental degradation, peace, justice, human rights, and combating corruption.