05 Jul 2023
Third Innovation Accelerators Programme for employees
(The programme includes 4 specialised workshops and over 100 working hours)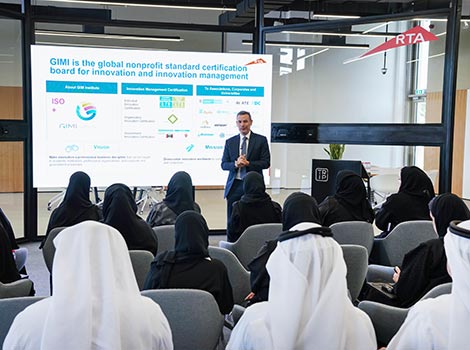 In conjunction with Global Innovation Management Institute (GIMI), The Roads and Transport Authority (RTA) has inaugurated the 3rd edition of the Innovation Accelerators Programme for its employees. This round, involving 20 employees spread across 5 specialised teams, aims to develop five innovative ideas that arose from innovation laboratories of youth and stakeholders from academic institutions and RTA's partners into business concepts over the course of 8 weeks. This move reflects RTA's commitment to adopting entrepreneurial ideas and converting them into reality to realise its vision of becoming "The World Leader in Seamless and Sustainable mobility."
"RTA aims to assume a leadership role and foster a culture of innovative culture among employees by forging partnerships with universities, specialised research centres key partners and stakeholders. , RTA formed five teams from its agencies and sectors for the third edition of innovation accelerators. Over the course of eight weeks, each team will work on developing practical use cases in four main areas: mobility, infrastructure, urban planning, and sustainability," said Hussain Al Banna, CEO of RTA's Strategy & Corporate Governance Sector.
"RTA's organisational maturity in the domain of innovation has significantly advanced. RTA received 28 regional and international innovation awards in 2021 and 2022, demonstrating its leadership in executing high-quality projects and initiatives.
This comprehensive programme entails over 100 working hours spread across 4 stages. The first step of training entails shaping the idea that will be produced, followed by its design and testing in the second phase of training. The third phase allows the team to create an initial model, while the fourth phase prepares for the announcement and launch of the business model. The programme encompasses employee training via four specialised GIMI workshops on business innovation tools, managing innovation programmes, marketing ideas, and managing innovative initiatives," added Al Banna.
"Previously RTA qualified 120 of its employees in the transformation of ideas into innovative projects through GIMI programmes. This demonstrates RTA's continuing investment in human capital to fulfil its objectives and strengthen its leadership in innovation," concluded Al Banna.
The Innovation Accelerators Programme will serve as a primary platform for introducing unique business ideas, while the Innovation Acceleration Programme will help to launch of more innovative projects. It will also improve large-scale innovation maturity by assuring the ongoing dissemination and promotion of an innovation culture in roads and transportation sector.