28 Aug 2023
Women Committee celebrates Emirati Women's Day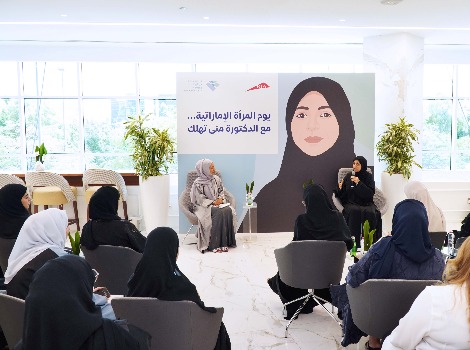 The Women Committee of the Dubai Roads and Transport Authority (RTA) celebrated the Emirati Women's Day themed 'We Collaborate for Tomorrow' in line with the The Year of Sustainability.

The Committee hosted Dr. Muna Abdul Razzaq Tahlak, CEO of Latifa Women and Children Hospital and attended by a number of female employees. The session touched on several key topics highlighted by the role of Emirati women in the health sector, an overview of the attributes of women's leadership and the challenges Emirati women encountered in their endeavours to shape the future of the nation.

Dr. Mona Tahlak reviewed her pioneering career and personal experience full of successes in the health field. She talked about the most important milestones in her academic career and the challenges she faced in reconciling her family and professional life. She also highlighted her passion for research and her diligence in presenting studies and research, which resulted in receiving many awards and honours, thus deserving of being chosen as the president of the International Federation of Hospitals and being the first Arab woman to hold this position.

Moaza Al Marri, Executive Director of the Office of His Excellency Director General, Chairman of the Board of the Executive Director, Chairperson of RTA women's committee expressed her admiration for Emirati Women's Day, which is viewed as a special day to mark the achievements and contributions of Emirati women to the UAE's growth and development.

"Celebrating the event is a true manifestation of the pivotal role of Emirati women, who managed to assume pioneering positions in multiple arenas, notably in the transportation field where they've demonstrated exceptional efficiency and innovation. These achievements are attributed to the unwavering support of our leaders as well as the guidance of Her Highness Sheikha Fatima bint Mubarak, Chairwoman of the General Women's Union (GWU), President of the Supreme Council for Motherhood and Childhood, and Supreme Chairwoman of the Family Development Foundation (FDF), the Mother of the Nation," commented Al Marri.

"Under the leadership of His Excellency Mattar Al Tayer, Director General, Chairman of RTA Board of Executive Directors, the RTA is keen to advance the skills of female employees and empower them to achieve RTA's strategic goals. So far, RTA employs 920 Emirati women out of a total staff of 5,015, which marks an increase in the number of female employees from last year (758 female employees). Out of the current female workforce, 793 are Emirati citizens, with the remaining 127 representing various other nationalities.

"Our female employees assume a variety of roles across a broad range of job hierarchies. 222 are employed in engineering, technical, and technological fields, 122 hold specialised positions, 23 assume leading positions, 25 serve in field jobs, 52 are in supervisory jobs, 42 in support & control posts, and 434 in administrative support roles," concluded Al Marri.