09 Jul 2023
Digital channels garner AED3.5 billion in 2022
(Digital transactions hit 814 million)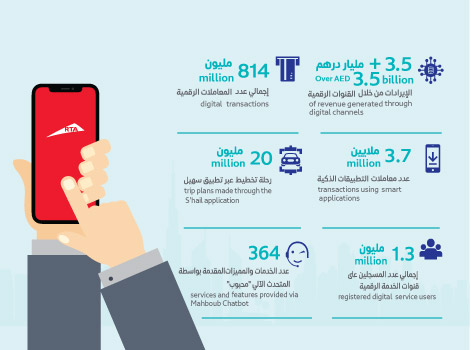 His Excellency Mattar Al Tayer, Director-General, Chairman of the Board of Executive Directors of Dubai's Roads and Transport Authority (RTA) revealed that in 2022 compared with 2021, the number of transactions, users and revenue streams through RTA's digital channels reflected phenomenal growth.
"In 2022 RTA recorded 814 million digital transactions up from 676 million in 2021, reflecting a robust growth rate of 20%. In addition, revenues in 2022 totalled AED 3.5 billion, an increase of 10% from the preceding year. The number of registered users increased by 30% to 1.3 million users, while, the number of in-app transactions increased by 197% to 3.7 million transactions," explained Al Tayer.
"RTA is moving ahead with the digitisation projects guided by the vision of His Highness Sheikh Mohammed bin Rashid Al Maktoum, Vice-President, Prime Minister of the UAE, Ruler of Dubai to foster wellbeing of Dubai, increase its global competitiveness, provide multiple options for residents in order for Dubai to become the best city for living in the world. These initiatives also complement the directives of His Highness Sheikh Hamdan bin Mohammed bin Rashid Al Maktoum, Crown Prince of Dubai, Chairman of the Executive Council to transform Dubai into the smartest city in the world and further the emirate's digitisation drive."
"RTA is working tirelessly to realize the vision of our wise leaders to transform Dubai into a smart city that uses cutting-edge technologies to deliver top-notch services to rank Dubai as the smartest city in roads and transportation worldwide. These initiatives are aligned with RTA's vision 'The World Leader in Seamless and Sustainable Mobility' and reflect a commitment to providing safe and smooth mobility driven by advanced networks as well as innovative and sustainable roads and transport services."
"The adoption of agility management techniques in digitisation projects, contributed to achieving these positive results. It is attributed to departmental communication, swift adaptation to technology trends, and a host of aspiring targets set. The S'hail app was used to plan over 20 million public transport journeys representing a 174% rise compared to 2021. In addition, when comparing last two years the number of app users increased by 73%," explained Al Tayer.
Digital Channels
RTA offers digital services highlighted by the launch of smart apps and new services and features through a variety of channels in 2022. A notable example is the Vehicle Purchase and Sale service, which enables customers to conduct purchases or sales without being physically present. The service received the 'UAE Innovates' Award in the category of Automating Government Transactions.
Several enhancements to parking services have also been introduced, including the option to pay parking fees using Apple Pay, which has seen over 2.2 million transactions since its introduction. For increased customer transparency improvements included notifying customers of free parking days during holidays. Additionally, RTA launched a feature that allows users to instantly access their vehicle registration cards for virtual displays upon request by adding vehicle registration information to the "Apple Pass" wallet.
Mahboub Chatbot
RTA made its first venture into using artificial intelligence technologies with the launch of Mahboub Chatbot in 2018. It serves as one of the primary platforms for delivering RTA's services across multiple digital channels, including smart apps, RTA's website, and WhatsApp. It provides customers with 364 services and features. In 2022, Mahboub carried out over two million conversations, with the most popular being the payment of parking fees via WhatsApp, saving customers the costs of a text message. Additionally, the platform offers services like renewing driver's licenses and vehicle registration enabling direct delivery request of new registration cards to customers.
RTA is eager to keep enhancing its digital interfaces through better strategies and key projects such as RTA's unified app that aims to deliver all of RTA's services via a single, consolidated application. Upgrading the smart kiosks, which entails offering 26 services via 30 smart kiosks is another significant project in the works as well as revamping the Mahboub Chatbot by leveraging generative artificial intelligence technologies.