29 Aug 2023
Using Eco-Friendly LED Technology to upgrade lighting
(Using Eco-Friendly LED Technology to upgrade lighting)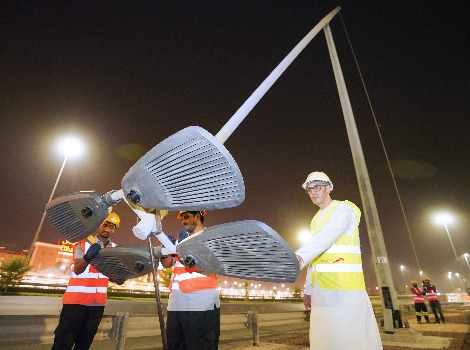 Dubai's Roads and Transport Authority (RTA) has recently upgraded 2,000 conventional lighting units with energy-efficient LED lights. The project scope extends 19.5 km and serves 16 lanes in both directions on the Airport and Al Ittihad Roads. RTA is keen to make its assets more sustainable in line with best energy conservation practices and support for the green economy. Such efforts contribute to achieving sustainable development and promoting a clean environment in Dubai and across the UAE.

Maitha bin Adai, CEO of Traffic and Roads Agency, RTA, said: "The lighting upgrading project on Airport and Al Ittihad Roads took nearly 6 months. Works included re-engineering the operating system of the lighting units to integrate sustainable, environmentally friendly and highly efficient lights. Undertaking the project underscores RTA's commitment to adopting the latest innovative means for optimising the use of assets, extending their lifetime and saving the power consumption across the lighting network."

"LED technology boasts numerous environmentally friendly features, such as: a 55% reduction in energy usage compared to conventional lighting units and a longevity increase of up to 173% over older streetlamps. Specifically, the new lights have a lifespan of 60,000 hours, in contrast to the 22,000 hours typical of traditional lamps. As such, it results in reducing the periodicity of replacing lamps along with maintenance and operating costs. It also reduces energy loss and heat emission by 20% compared to traditional lamps. It does not only enhance the operational efficiency of the lamp system but also raises the efficiency of the lighting energy grid throughout Dubai's streets.

"The upgraded lamps offer greater brightness and colour precision than their predecessors, improving nighttime visibility and road safety for motorists in Dubai. The LED lamps offer a colour temperature of 4000K, which is double the 2000K of the older lamps, thereby enhancing lighting quality by 100%. These new lamps are also free from environmentally harmful substances, aligning with RTA's vision and Dubai's commitment to environmental sustainability," concluded bin Adai.

RTA consistently strives to enhance Dubai's road lighting systems by employing the newest, smart, and innovative technologies tailored to the UAE's climatic conditions, furthering its commitment to sustainability.