12 Apr 2022
251 trainees from 10 countries take part in capacity building programs of MENA CTE, in second half of 2021
(Satisfaction rating of virtual trainings and workshops held touches 90%)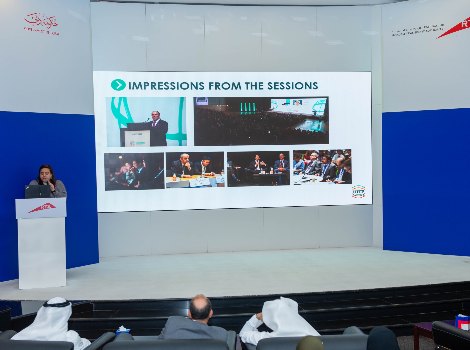 About 251 trainees from 10 countries took part in the training courses jointly held by the MENA Centre for Transport Excellence (CTE) in the second half of 2021. The Centre was established in 2012 as a partnership between the Roads and Transport Authority and the International Association for Public Transport.

The training programmes held remotely by the MENA Centre for Transport Excellence (CTE), featured the participation of 62 public transport specialists from around the world. Topics discussed covered smart vehicle systems, digital cities, smart infrastructure management, self-driving vehicles and systems, benefiting from urban mobility disruptions to create better cities, public-private partnership, and vehicle fleet engineering and management. About 185 RTA employees from various agencies and sectors took part in the workshops.

Additionally, 4 training courses were delivered in French in the Kingdom of Morocco, which were attended by 128 trainees from various public transport entities worldwide. 31 specialists participated in delivering these remote training programmes, and the satisfaction rating of the workshops reached 90%.
Deliverables

Besides the training courses, the MENA Centre for Transport Excellence, activated the partnership agreement between the Transport Security Department at the Dubai Police, RTA and UITP, A virtual session entitled: Public Transport Security in the MENA Region was held and attracted 422 participants from various entities involved in public transport security from 15 countries. Participants included 25 employees from RTA and 7 international experts.

Under that partnership agreement and in collaboration with the International Association of Public Transport (UITP), a Diploma of Capacity Building for public transport security was hosted by Dubai Police. It attracted 50 participants from 10 countries in the MENA region and 15 transportation security specialists from different nationalities oversaw the coaching of trainees.

Reports and Studies

The MENA Centre for Transport Excellence (CTE) conducts researches and compiles reports and studies on topics such as Urban Mobility in the MENA region in the post-Covid-19 era, which included a survey of users in MENA. Such studies also aimed to show the impact of the pandemic on the urban mobility of the region from operational and financial perspectives.

The report on public transport in the MENA region that explains the state of public transportation and the impacts of the pandemic during 2019 and 2020, besides addressing new micro-mobility projects. in addition to preparing an analytical study on electric buses in the MENA, by identifying and following up the developments of pilot projects for electric buses, with the support of the resources available to UITP.