05 Jun 2022
Al Tayer honours 19 Emirati graduates of Railway Engineering Training Programme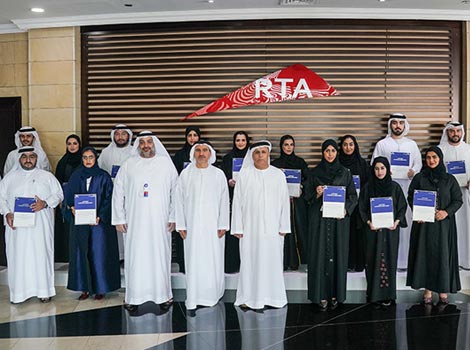 His Excellency Mattar Al Tayer, Director-General, Chairman of the Board of Executive Directors of the Roads and Transport Authority (RTA), honoured 19 Emirati engineers who graduated from a specialised training programme for engineers of RTA's Rail Agency. The training was commissioned by the German Deutsche Bahn, one of the leading companies specialising in trains and railway operations in Europe.
The training was conducted in the context of RTA's efforts to enhance the skills of Emirati human resources, qualify them in specialist knowledge fields, and empower them to pick up the skills necessary for railway and maintenance tracks. The training also accredits the participants as certified railway professionals.
The programme included eight specialist training pathways such as railway project management, quality and safety management, mechanical engineering, railway infrastructure, signalling system, and train and railway maintenance.
"RTA is keen to materialise the directives of leaders to nurture a perfect environment that supports Emiratis and fosters young leaders capable of envisioning the future and developing innovative tools for leading the future. Training is a tool for grooming and polishing human resources and furnishing them with the requisite professional capabilities and leadership skills to promote their job efficiency," said Al Tayer.
"RTA provides a perfect environment for career progression and offers prospective Emiratis a chance to assume leading roles and contribute to realising its ambitious vision and strategic objectives. RTA is making every effort to boost its competitiveness to attract highly professional personnel, thus becoming the first choice for competent human resources. It also seeks to build a comprehensive model for employee motivation and retention, which requires attention to developing their scientific and practical skills," concluded Al Tayer.