27 Jul 2023
Digitising 400 thousand metro documents, registering 600 thousand digital asset IDs
(This was facilitated through the Rail Engineering Information Digital Platform )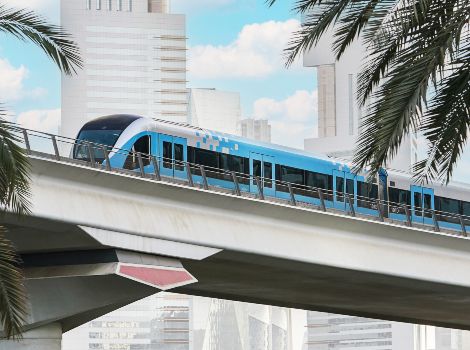 During 2022 the Rail Engineering Information Digital Platform at Dubai's Roads and Transport Authority (RTA) has successfully digitised 400 thousand Dubai Metro related documents and registered 600 thousand digital asset IDs for the assets of the Metro's Red and Green lines. The goal is to obtain data governance across rail asset data and documents, thereby enriching data about assets in maintenance and operation. This, in turn, streamlines decision-making and automating engineering operations through digitisation.

The Rail Engineering Information Digital Platform is a Rail Agency specific application, designed to carry out data governance tasks for Dubai Metro's data and documents. The platform also generates digital space for most relevant partners to connect. A key goal of the platform is to ensure the consistency and accuracy of information while preventing errors that could arise from manual data storage and usage processes.

Linking Platform with Maintenance System

RTA was keen to integrate the digital platform with the Rail Agency's maintenance system. This link aims to prevent the registration of assets in the maintenance system until all stages of checking the description and related data via the digital platform have been completed, ensuring maximum information accuracy.

The digital platform also offers a link for each asset enrolled into the maintenance system, allowing system users to view the recorded and updated asset information on the digital platform via the link. The platform also outlines criteria and prerequisites for changes to the registered lists of manufacturers and spare parts suppliers for the assets. Moreover, the platform associates each asset with its location and related engineering documents.

Major Operations

The platform executes key operations which include asset data verification before registration, review of external and internal documents, and requisition of engineering information. It also scrutinises the operator's monthly report. The platform plays a vital role in automating the management of engineering changes by guaranteeing information regarding these changes and establishing links between the components subject to changes. The platform has also facilitated the link between engineering change requests and operator reports of these changes, thereby promoting transparency in engineering transactions and expediting decision-making.

RTA holds workshops to train beneficiaries on using the platform and issuing technical manuals in line with the world's top practices. RTA is constantly dedicated to employing AI and taking advantage of the huge data storage it boasts in planning smart mobility and promoting transportation efficiency.