14 Aug 2023
Digitising free parking permits service for Senior Emiratis, People of Determination
(The smart parking permit enables users to add 5 vehicles )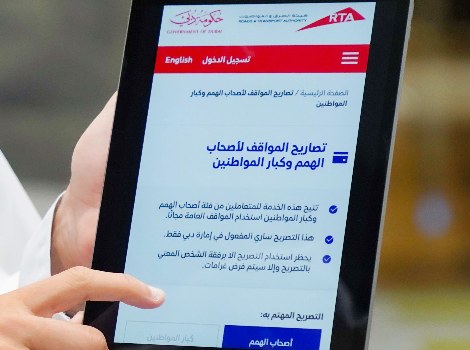 Dubai's Roads and Transport Authority (RTA) is complementing its smart service offering by digitising the parking permits service for Senior Emiratis and People of Determination as of August 20th, 2023, thus eliminating the need to print and display them. The smart permit comes with a new feature entitling the user to add up to 5 vehicles in each permit, one primary vehicle and 4 secondary vehicles, as only one vehicle can be activated at a time through the website and RTA app.
Through this initiative, RTA is keen to transform its services into smart and proactive services in line with the Smart City initiative and sustainability in service delivery. It also aims to enhance customer's happiness, especially Senior Emiratis and People of Determination who form an integral part of the UAE community.
"RTA is committed to develop customer services based on its strategic goals represented by (People Happiness) and the service of free parking offered to Senior Emiratis and People of Determination is considered a priority for RTA and is on the top of the list of services earmarked for automation such that it comes with more smart features that make customers happier without requiring them to visit customer happiness centres. Senior Emiratis and People of Determination can avail of this smart parking permit via RTA's website, app or customer happiness centres," said Eng. Osama Al-Safi, Director of the Parking, RTA's Traffic and Roads Agency.

"The free parking permits provided to Senior Emiratis and People of Determination include a range of services, including, issuing and renewing permits for Senior Emiratis that allow them to use public parking for free, while keeping in mind that any parking spaces reserved for a specific category should not be used. It also includes permanent and temporary permits for People of Determination, tourist permit for People of Determination, permit for rehabilitation centres for People of Determination, and permit for special medical conditions allowing them to use public parking for free along with parking slots for people of determination.

"Customers will receive notifications through text messages prompting them to update their permits. These notifications will include an electronic link sent to their registered phone numbers, enabling them to electronically activate the permit. This service enables designating a primary vehicle for permanent activation. Additionally, users can add secondary vehicles to the system. This flexibility allows any of the secondary vehicles to be activated for up to an hour with the option to renew through RTA's website or a smart app. It's important to note that the authorised licensee should be on board the vehicle," added Al-Safi.

It is noteworthy that RTA digitisation drive covers parking systems, which encompasses various payment methods for parking fees such as the smart parking device, the newly introduced payment platforms and the smart app. Furthermore, RTA has introduced a paperless system dedicated for violations involving the use of the smart inspection fitted with vehicle scanners, deploying the smart supervisor, issuing electronic tickets based on the vehicle number using bilingual interactive touch screens, linking with nol card to save the vehicle number, integrating with the smart inspection system and displaying the electronic tickets on the smart app or the website.