30 Aug 2023
Dubai Taxi launches 4 smart app-based services
(The move aims to improve digital transformation, ensure safe and long-lasting mobility services)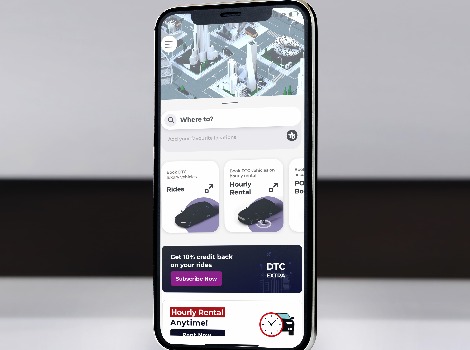 Dubai's Roads and Transport Authority (RTA) subsidiary Dubai Taxi Corporation (DTC) has announced the launch of four smart and innovative services to its digital application (DTC App). This step aligns with DTC's digital transformation strategy and its pioneering efforts in providing safe and sustainable digital transportation services, which contribute to Dubai's global leadership in transportation services.

"The launch of these services reflects the Dubai Taxi Corporation's commitment to developing smart services in accordance with the leadership's directives to enhance the digital transformation journey for the benefit of the community. DTC is a pioneer in the implementation of innovative and smart services that adhere to the highest global standards. It is constantly striving to improve performance to achieve its strategic goals of providing innovative digital and sustainable transportation services that make people happy," said Abdullah Ibrahim Al Meer, Director of Digital Transformation and Commercial Development at Dubai Taxi Corporation.

One of the premium services recently provided by DTC is the 'Hourly Rental' service, which is meant to suit the demands of residents, tourists, and entrepreneurs, as well as tourist facilities such as hotels, tour operators, airlines, and other public and private entities. Users can use the service to make many nonstop trips without designating a specific destination. Passengers can guide the driver to specific locations. The service caters to business executives by allowing them to book a single limousine for several meetings, with the option of making multiple stops as part of their business trips. The service is available 24/7, allowing users to complete all journeys with a single vehicle rather of switching between different vehicles, saving them time, effort, and cost.
DTC also launched the 'Lost and Found Service', enabling passengers who lost any of their belongings during their trip to retrieve them by communicating with the driver or selecting the Lost Item Request feature in the available trip report on the DTC App to arrange for their return.

Additionally, DTC added the 'Meet Me Here' service to its list of services on the smart app, allowing users to share their precise location with friends, making it easy for them to meet at the intended destination. Furthermore, the Share My Trip Status service enables users to share their trip status accurately with their family or friends, giving them details about their trip, route, and estimated time of arrival.

"DTC is committed to achieving sustainable development and providing an innovative model of digital services. It aims to expand the use of artificial intelligence, smart systems, and automation by capitalising on advanced technologies to deliver transportation services in an innovative and exceptional digital manner. The drive cements DTC's leading role in the smart transportation industry and promotes sustainability in Dubai's transportation landscape," added Al-Meer.

DTC offers a wide range of digital services through DTC App, enabling users to easily book limousines using advanced technologies that render the booking of diverse transportation services faster and more specific.