15 Sep 2023
Joining DYOD campaign to educate underprivileged students worldwide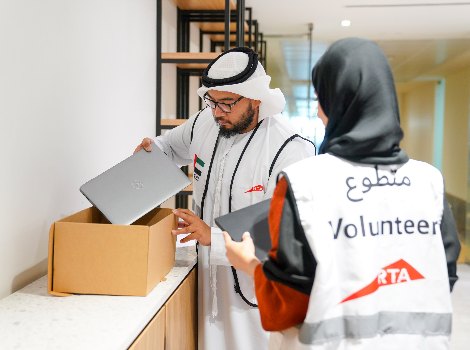 Dubai's Roads and Transport Authority (RTA) has donated 450 computers to the Donate Your Own Device (DYOD) campaign initiated by the Digital School; an initiative launched by His Highness Sheikh Mohammed bin Rashid Al Maktoum.

The DYOD campaign aims to collect used electronic devices from individuals and institutional donors, refurbish and recycle them to support underprivileged students worldwide, enhancing their access to education through digital means, ensuring they have access to high-class education opportunities.

The "DYOD" campaign seeks to involve the largest number of institutions in supporting students with ten thousand electronic devices, by donating surplus and old computers and electronic devices. Participating institutions will be granted a green contribution certificate in sustainability and recycling.

This marks RTA's inaugural contribution to the campaign initiated this year to assist students in need by fulfilling their educational requirements, which entails the provision of computers to ensure continued learning. This allows students to keep up with the latest scientific publications and fosters communication between underserved students and teachers.
450 Computers

Rowdah Al Mehrizi, Director of Marketing & Corporate Communication, Corporate Administrative Support Services Sector, RTA, said: "RTA supported the campaign by donating 450 computers, comprising 115 desktops and 335 portable devices, to assist students lacking up-to-date and adequate devices. In donating to this campaign, RTA seeks to provide digital infrastructure, which is a fundamental educational tool to enable students to enhance their reading skills, connect with educational platforms, and watch cultural and training programmes."

"RTA's contribution to this campaign underscores its dedication and commitment to support CSR initiatives hosted by various entities. These initiatives aim to support diverse segments of the community, in line with the corporate values outlined in RTA's strategic plan for 2023-2030, which highlights collaboration and teamwork," added Al Mehrizi.

Environmental Goal

"Participating in this initiative also serves an environmental objective, which entails the appropriate disposal of computers and accessories. These devices are viewed as reusable and functional. This environmental goal aligns with UAE's objectives for the Year of Sustainability, which embodies its commitment to enhancing environmental protection and establishing prosperous communities," commented Al Mehrizi.

Partnership

"Joining this initiative affirms RTA's commitment to serving communities and individuals both within and outside the UAE besides supporting charitable efforts. It establishes a collaboration with the Digital School, which offers educational opportunities for students worldwide facing economic hardships that bar them from realising their right to pursue their education. In 2022, RTA rolled out 47 initiatives that benefited 53 million beneficiaries from diverse segments, encompassing both university and school students. Throughout the years, RTA initiatives provided school buses to students in Uganda and Tanzania, in addition to two classrooms in Egypt, and supplied nine small vehicles along with two buses in Thailand," concluded Al Mehrizi.

50,000 Digital Education Opportunities

Through global and local partnerships, the Digital School carried out educational programmes that contributed to offering over 50,000 digital education opportunities across 8 countries. The school is aiming to reach a milestone of 1 million students by the end of 2026.