04 May 2023
Launching integrated platform for monitoring and managing soft mobility means through EC3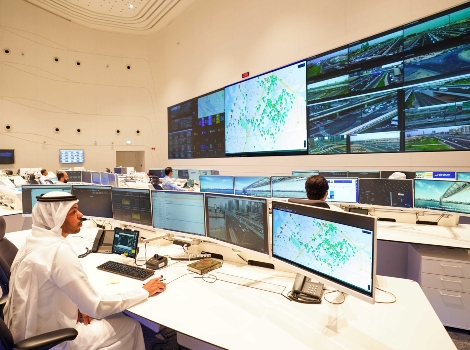 Dubai's Roads and Transport Authority (RTA) unveiled a comprehensive platform for monitoring and managing soft mobility operations, in collaboration with key stakeholders and service providers.

This platform seeks to advance sustainable mobility by employing AI technologies. It is part of the endeavours to fulfil the ambitions to bolster Dubai's standing as one of the world's smartest cities and achieve the UAE's vision to have a leading global role in AI by 2031.

Reflecting on the launch of the platform, Hussain Al Banna, CEO of Strategy and Corporate Governance Sector at RTA, said: "This platform is a crucial initiative under the umbrella of RTA's Enterprise Command and Control Centre (EC3), aimed at enhancing the quality of services and smooth, safe, and secure mobility for users. It assists in the preparation of technical studies and promotes the integration of multiple mobility means. Ultimately, it leads to a seamless and integrated travel journey for public transport riders and ensures the safety and security of all users of Dubai's roads".
"The soft mobility integrated platform links the systems of service providers to the EC3. The initial phase linked five providers of soft mobility services including four shared e-scooter operators and one shared e-bike operator. Over 2,500 e-scooters are operated across 21 regions (11 new areas were added in the first quarter of 2023). Shared e-scooters made more than one million trips in 2022. In Addition, the 1,750 shared bikes provided in 28 areas across Dubai recorded over 1.3 million trips in 2022," he added.
Smart pioneering

Al Banna stressed the significance of the initiative in monitoring and managing soft mobility means across the emirate in real-time. "The platform contributes to improved performance and traffic safety on all crossing lanes and tracks designated for pedestrians and bikers by verifying compliance with the geographical zone designated for each provider and monitoring the numbers permitted in each zone. It also monitors compliance with the speed limits and issues alerts for violations. It monitors the usage rates of those means to promote soft mobility and the first- and last-mile journeys, besides enhancing Dubai's pioneering standing in AI technology and environmental sustainability.

RTA undertook numerous initiatives to enhance the individual mobility experience, most notably expanding the cycling tracks, which grew from just 9 km in 2006 to 544 km in 2022, resulting in an increase in the average cycling lane-kilometre from 10.6 km to 14.45 km per 100,000 population during 2017-2022. Future plans aim to extend these lanes to 833 km by 2026 in line with the strategy to transform Dubai into a bike-friendly city introduced in 2021 by His Highness Sheikh Hamdan bin Mohammed bin Rashid Al Maktoum, Crown Prince of Dubai and Chairman of the Executive Council.
High use rates

RTA has established a soft mobility plan to redesign the road network across various districts to accommodate all soft mobility needs. RTA implemented this initiative in three different districts of the emirate: Al Qusais 1, Al Mankhool, and Al Karama. It was reported that the rate of using bikes at Al Qusais topped 100%, and the pedestrian satisfaction rate averaged 87% in areas where soft mobility was implemented. Plans are in place to expand to cover 31 additional districts over the next five years.

RTA has improved the infrastructure in the surrounding mass transit stations by making improvements to around 30 different stations in the emirate. This aims to facilitate easier access to these stations using sustainable transportation methods, which has led to an increase in public transport users from 461 million in 2021 to 621 million in 2022. Plans are in place to extend these improvements to 32 additional stations by 2027.

RTA is continuously running various initiatives to ensure the safety and comfort of commuters, enhance the integration of public transport means and promote the role of soft mobility in first-and-last-mile journeys and short trips. RTA contributed to the issuance of the Executive Council Resolution No. 13 of 2022 to regulate the use of bikes in Dubai, set flexible speed limits on different routes according to the area and time, and assign a plate number to each shared scooter.