09 Jun 2023
Positive outcomes for automated procedures of impounded vehicles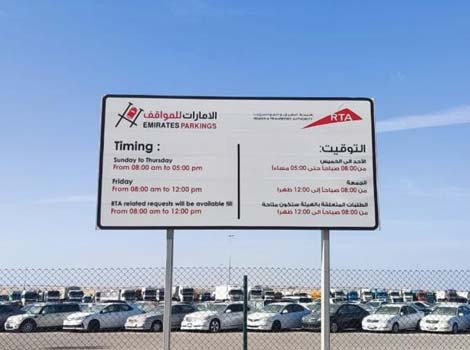 Dubai's Roads and Transport Authority (RTA) has achieved positive outcomes within a very short period for the implementation of the automated procedures for impounding violating vehicles at Lehbab Yard, Dubai, in cooperation with Emirates Parkings, following a contract signed between the two entities earlier this year 2023.
"The implementation of enhanced operational measures and the improved system and procedures, especially implementing a smart system that employs QR Code scanning when receiving or dispatching vehicles within the yard. We facilitated the preparation of the required reports with detailed data from the Dashboard. In addition, we've streamlined the process of parking vehicles inside the yard according to the category of each vehicle, and we added numbered parking slots to easily identify the parking place," said Essa Al Amiri, Director of Administrative Services, Corporate Administrative Support Services Sector, RTA.
"We're also constantly striving to update vehicle locations in the GPS, which aids the Customer Happiness Centre staff in easily locating vehicles upon review or during vehicle release procedures and handing over the vehicle to the customer. The yard has gone through extensive maintenance, additionally, we are dedicating a designated area for vehicles that are subject to auction listing," added Al Amiri.
The two entities rolled out three joint initiatives aimed at enhancing the service that included detecting vehicles in violation, setting up a unified platform for inquiries about vehicles impounded in parking lots, and offering roadside assistance service.
Under this contract, RTA granted Emirates Parkings the entitlement to tow and impound light and heavy vehicles as well as trailers found in violation of federal and local rules & regulations. The contract streamlines the impounding system and links it with the traffic and electronic system to enable sharing of information about seized vehicles and calculating the applicable fees. It also revamps the system used for saving details of vehicles referred to the vehicle sale committee and maintaining all records of auctioning those vehicles.