06 Jun 2023
RTA showcases self-driving and sustainable transport initiatives at UITP Global Public Transport Summit Barcelona
(Al Tayer delivers a keynote address in the opening session)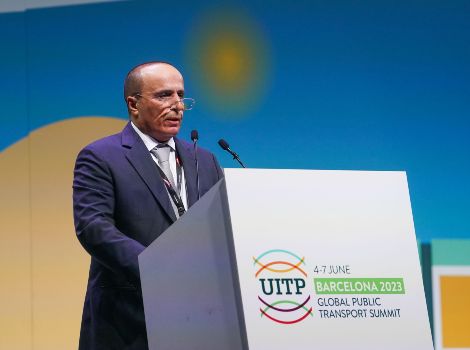 Dubai's Roads and Transport Authority (RTA) has taken part in the 64th UITP Global Public Transport Summit held in Barcelona, Spain featuring the participation of 1900 delegates from 100 countries. About 300 speakers delivered speeches in 85 discussion panels that discussed the latest ideas and visions about urban and sustainable mobility. On the sidelines of the summit, an exhibition of the International Association of Public Transport (UITP) hosted 15,000 visitors, and RTA showcased its latest public transport and sustainable projects and initiatives about self-driving transport and smart technology-driven services through its stand.

The summit, which is held biennially, offers a huge gathering of transport specialists worldwide and showcases the latest technologies of infrastructure, artificial intelligence, and sustainability. Bright Light of the City, which was this year's theme focused on providing smooth and safe transport through integrated transport networks.

His Excellency Mattar Al Tayer, Director General, Chairman of the Board of Executive Directors of RTA delivered a speech at the opening session of the summit in the presence of Her Excellency Raquel Sánchez Jiménez, Spanish Minister for Transport, Mobility and Urban Agenda, His Excellency Khalid AlHogail, President of UITP and Her Excellency Ada Colau, Mayor of Barcelona, Spain. Al Tayer stressed Dubai's commitment to boosting sustainable and innovative transport across all public and shared transport means.

"Under the directives of His Highness Sheikh Mohammed bin Rashid Al Maktoum, Vice President, Prime Minister of the UAE, Ruler of Dubai, and the follow-up of His Highness Sheikh Hamdan bin Mohammed bin Rashid Al Maktoum, Crown Prince of Dubai, Chairman of the Executive Council, and His Highness Sheikh Maktoum bin Mohammed bin Rashid Al Maktoum, First Deputy Ruler of Dubai, Deputy Prime Minister, Minister of Finance, emphasis is being made on adopting resilient government processes and envisioning the future besides keeping pace with the rapid changes experienced by the world, and developing future solutions for challenges of all kinds," noted Al Tayer.

Ambitious Plans

"Dubai Government has invested more than Euro 37 billion (AED146 billion) in upgrading the infrastructure of roads and public transport networks over the past 18 years to ensure smooth and sustainable transport for Dubai's residents and visitors. Dubai's integrated public transport modes form the backbone of people's mobility around Dubai. The network succeeded in leveraging the proportion of public and shared transport from 6% in 2006 to as much as 19.4% in 2022, and the plan is to push it further to 25% by 2030," commented Al Tayer.

"The network has also coaxed a change in the culture of residents across various segments and their attitude toward using public transport means. RTA's strategic and executive plans for roads and transport are built on the principle of smooth mobility around Dubai. Moreover, RTA intends to transform all mass transit means into environment-friendly means with zero carbon emissions by 2050."

"The UITP Global Public Transport Summit is vital for discussing and showcasing the latest innovations and practices of sustainability in public transport besides increasing the share of public transport means in fulfilling the needs of the daily movement of people. It is great that the city of Barcelona, which boasts stunning historical architecture and a unique urban planning system, is the host of this global event that brings together heads of transportation authorities, top manufacturers and experts to exchange knowledge and experiences that shape the future of urban mobility."

"Dubai has demonstrated a strong commitment towards sustainable and innovative mobility, as evidenced by numerous ongoing initiatives. A prime example of this is the "environmentally friendly Dubai Metro" - the world's longest driverless metro system. Since its inception in September 2009, it has transported over 2 billion riders while living up to the highest global safety standards coupled with admirable operational efficiency rates, and an impressive 99.7% punctuality rate.

"Dubai has ambitious plans aligned with the United Nations' sustainable development goals, particularly carbon emissions, and the objectives of the forthcoming Conference of the Parties (COP28), to be hosted by the UAE this year. Our pledge to sustainable mobility is also illustrated by the Dubai Urban 2040 Plan. This people-centric strategy is built on a host of key pillars namely the integration of land use, transport planning, the use of sustainable transportation means and the 20-minute city concept," explained Al Tayer.

Dubai, a Global Pioneer

"Innovative mobility is another key area where RTA is endeavouring to boost the pioneering standing of Dubai in the field of self-driving transport. This included trials of various autonomous vehicles, aerial taxis, and marine transport modes. Such efforts echo Dubai's strategy for smart self-driving transport aimed to transform 25% of the total mobility journeys in Dubai into driverless journeys using diverse forms of transport by 2030," said Al Tayer.

"RTA has made significant progress towards realising this strategy. As of 2022, over 10% of total trips in Dubai had transformed to driverless modes, primarily through the Dubai Metro's driverless operations. Furthermore, the end of this year will witness the introduction of Cruise autonomous vehicles to provide taxi and e-hail ride services. This launch will mark Dubai as the first city outside the United States to commercially operate this company's autonomous vehicles.

"RTA's innovative mobility projects are a testament to the effective collaboration between the Dubai Government and several leading technology companies working in tandem toward realising RTA's vision "The World Leader in Seamless and Sustainable Mobility," elaborated Al Tayer.

"We take pride in our enduring partnership with UITP. This collaboration led to Dubai hosting the 59th World Congress and Exhibition of the International Association of Public Transport (UITP) in 2011, marking the event's debut in the MENA region. Our relationship with UITP has further solidified with the establishment of the MENA Centre for Transportation Excellence as well as the organisation of four UITP MENA Public Transport Congresses. It's my pleasure to extend an invitation for you to attend the fifth congress, which will be hosted by Dubai in 2024," said Al Tayer.

Strategic initiatives

RTA participated in the global summit with a delegation comprising several CEOs and directors. It set up a large stand to showcase several strategic initiatives, ambitious plans, and future projects. Examples included the Digital Twinning of Railways in Dubai Metro relating to trains' infrastructure and the contribution to a higher operational value, and faster maintenance and decision-making operations. It also features RTA's 'Zero-Emissions Public Transportation in Dubai 2050' strategy, ultimately positioning itself as the first government agency in the MENA region to set an integrated road map targeting public transport and its infrastructure. Exhibits also include the trial of the electric bus and Cruise autonomous vehicles slated for launch in December 2023. This puts Dubai at the forefront as the first city outside the United States to deploy autonomous vehicles.

Aerial Taxi

RTA's stand displays the Aerial Taxi project undertaken in cooperation with Skyports and Joby companies. The project is projected to be operational by 2026, positioning Dubai as the first city in the world to have a sophisticated network for vertical take-off and landing. The stand also featured the Yandex experience with Talabat for the transportation of goods, and the launch of delivery robots that operate using autonomous vehicle technology. It exhibits digital cards through the nol Pay app for smartphone users in the UAE usable as a means of payment for various transit means, and the S'hail Smart app, which facilitates the planning of public transport journeys in Dubai.

Inspection tour

His Excellency Mattar Al Tayer toured the exhibition and was briefed on the latest innovations in public buses and smart transport technologies. As he visited the Bluebus stand to inspect the 100% electric-powered buses, as well as the Doppelmayr stand to gain insight into the APM system, one of the most innovative and safest solutions used in airports and urban applications.

He also toured the stand of Keolis-MHI (the operator of Dubai Metro and Tram), as well as the stand of MTR Corporation Limited, where he was given a brief on innovative initiatives related to railway operations and their connection with commercial and residential communities. Al Tayer made a stop at the EBUSCO stand to have a look at the new electric buses developed by the company.