12 Jun 2023
RTA signs 3 agreements to drive sustainable mobility in public buses
(The agreements were signed on the sidelines of the UITP Global Public Transport Summit)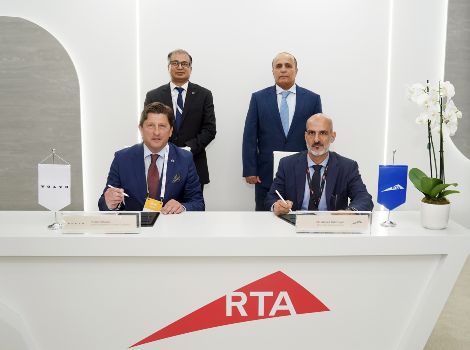 H. E Mattar Al Tayer, Director General, Chairman of the Board of Executive Directors of Dubai's Roads and Transport Authority (RTA) witnessed the signing of 3 collaboration partnerships with specialised global bus manufacturers to improve public transportation sustainability. The agreements were made on the sidelines of the 64th UITP Global Public Transport Summit held in Barcelona, Spain 4-7 June 2023.

The three agreements were signed by Ahmed Bahrozyan, CEO of Public Transport Agency, RTA; Till Oberwörder, Head of the Division Daimler Buses & Chairman of the Management Board EvoBus GmbH; Dan Pettersson, Senior Vice President Business Unit Chassis, Volvo Bus Corporation; and Richard van den Dungen, Commercial Director, VDL Bus & Coach B.V.

The first of these agreements establishes a ground-breaking collaboration with German firm Daimler Buses and calls for the testing of a first-of-its-kind bus driven by electricity and hydrogen fuel to assess its viability in Dubai's specific climatic conditions. The second agreement was inked with the renowned Swedish automaker Volvo. It marks the start of Phase II of a ground-breaking technology to test Volvo's electric buses under Dubai's operational conditions. The third agreement involves the Dutch company, VDL and aims to exchange experiences and knowledge specifically relating to electric buses.

RTA inked these collaboration agreements as part of ongoing search for innovative transport solutions through enhanced collaboration with the private sector. The ultimate goal is to identify potential areas of cooperation, foster partnerships, and expedite the transformation of mass transportation management and operations using state-of-the-art and eco-friendly technologies. Achieving these goals helps to realise the RTA's strategic goals of providing smooth, safe, and sustainable transportation services in Dubai.

Ahmed Bahrozyan, CEO of the Public Transport Agency, RTA, said, "RTA is proud to have signed three strategic collaboration agreements with a host of renowned international companies specialising in sustainable transport, particularly public buses production. The decision reaffirms our steadfast commitment to transitioning all modes of mass transportation into eco-friendly and carbon-free modes by 2050.

Bahrozyan continued: "The first agreement, signed with Daimler Buses, provides for the trial of an electric and hydrogen-powered bus. This pioneering experiment, which will be launched from Dubai, will be the first of its kind in the Middle East, following the proven success of the trials in the European continent. This pioneering success of innovative blend of eco-friendly buses has the potential of a promising future for sustainable and green public transportation in the emirate," Bahrozyan emphasised.

"The second agreement continues RTA's partnership with the Volvo Bus Company. It aims to make Dubai's vision of becoming a more sustainable city a reality by rolling out sustainable and eco-friendly mobility modes of transportation. The agreement outlines the next phase of deploying experimental electric Volvo buses meticulously designed to match the climatic conditions of the United Arab Emirates.

"The third agreement represents our strategic alliance with VDL, with the primary objective of sharing knowledge and experience in managing and operating electric buses. It proposes holding workshops and exchanging visits to become acquainted with the latest international practices and experiences electric bus depots. This exercise will make it easy for RTA to provide depots fitted with the infrastructure for powering electric buses in future.
Consequently, it will ensure an integrated structure to manage and operate environmentally friendly mass transit systems, ensuring safety, convenience, and sustainability," Behrozyan concluded.

Dan Pettersson, Senior Vice President of Business Unit Chassis, Volvo Bus Corporation, said, "We have a successful and long-standing cooperation with the RTA, and our objective was always to bring revolutionary technologies to Dubai's public transport. Through this partnership, we aim to further advance the smart buses concept, underpinning the evolution of future transport solutions, and enabling the RTA to effortlessly transition into electric mobility. The agreement calls for the development of a comprehensive transportation system, that incorporates the most modern and innovative technology currently available. We stand committed to supporting the Dubai Government's drive of delivering sustainable transportation solutions in line with the strategic objectives to diminish carbon emissions by 2030."

Richard van den Dungen, CCO at VDL Bus & Coach, said: "For the past decade we have been a European frontrunner and market leader in electric mobility, andour knowledge of the transition from fuel to zero emission operations can be used for analysis in the UAE region. We are very delighted with RTA and VDL Bus & Coach's mutual intention to collaborate in the field of sustainable mobility."