7 Zones to Travel Across
With your nol card you can travel on Dubai's Metro, Buses and Water Buses which have stations located at different zones. Depending on the number of zones you travel, the fare will be calculated and automatically deducted from your e-purse. During your journey you can make transfers across Bus and Metro.
Zone Fares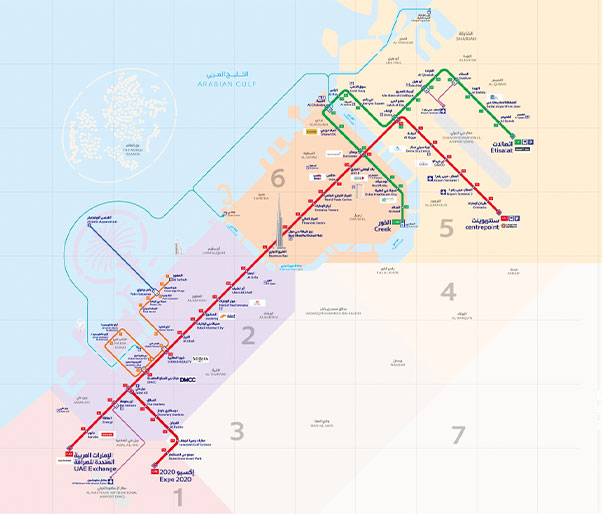 Dubai map is divided into 7 zones. Each zone contains Metro stations, Bus stations, Tram stations, and Water bus stations. Your journey can be made using different modes of transport which are located in different zones. At the end of your journey, you will be charged according the total number of zones you have passed. Enabling complete end-to-end journeys, transfers across different modes of transport have been made possible, however travelling between two different modes of transport must be done within 30 minutes. You can travel on metro then take a bus to reach your final destination. After you check-out from the metro station, you will have 30 minutes to check-in on a bus. Having done this on time, your metro and bus trips will be charged as a single journey (you will be charged based on the total number of zones passed in the 2 trips combined).
Transfer Rules
Within 1 zone
2 adjacent zones

more than 2 zones

Max Journey Duration
180 min
180 min
180 min
Max Transfer Allowed
3
3
3
Other Fares
Your nol Card can also be used to travel on water bus and to pay for RTA's paid parking zones.

You can use your nol card or nol ticket to ride the water bus, with the fixed fare of AED 2 for one way trip. You can buy the nol red ticket from any marine ticket office located at water bus stations and top it up with up to 10 trips, which can be used at any water bus in Dubai. If you have a nol silver, gold, or blue Card, you can ride the water bus by adding value to your e-purse and simply using your card, which will deduct the fare automatically. Please note transfers are not applicable from/to water bus, and the maximum duration of the trip shall not exceed 3 hours. For more information on marine services, Click here.

If you have a nol silver, gold, or blue card, you can pay for parking using your card by adding value to your balance and simply tapping your card at any RTA parking meter.
Traveling with nol red ticket
nol red ticket enables you to make single trips and pay only for the exact trip you travel. Prices depend on the number of zones you transfer through.
nol Red Tickets Fares
Type
Nol Red Ticket (Regular)
(AED)
Nol Red Ticket (Gold)
(AED)
Within 1 Zone
4
8
2 Adjacent Zones
6
12
More than 2 Zones
8.50
17
Compare Fares
Compare Cards by Fares
Type
Silver Card

Gold Card

Personal Card

Red Ticket

Fares (in AED)
Within 1 Zone
3
6
3
4
2 Adjacent Zones
5
10
5
6
More than 2 Zones
7.5
15
7.5
8.5
Student, Social Affairs & Senior Citizen and Residents
N/A
N/A
50%
N/A
People of determination
N/A
N/A
Free
N/A
Children (5 years old and below)
Free
Free
Free
Free
Clarification Note:
Gold class passengers are charged a Gold Surcharge on top of their regular fares when using the tram and metro only. For example, if customer was traveling on the tram on zone 2 and the surcharge was deducted, then he transferred to Metro, he will not pay the surcharge again for zone 2. However, he will pay Gold surcharge if he travels other zones on the Metro.
Choose nol Card
nol Products Prices
Product Type
SILVER
GOLD
STUDENT
SENIOR
1 Zone
2 Zones
All Zones
1 Zone
2 Zones
All Zones
1 Zone
2 Zones
All Zones
1 Zone
2 Zones
All Zones
7 Days
50
80
110
100
160
220
25
40
55
25
40
55
30 Days
140
230
350
280
460
700
70
115
175
70
115
175
90 Days
330
550
830
660
1100
1660
165
275
415
165
275
415
365 Days
1060
1770
2670
2120
3540
5340
530
885
1335
530
885
1335
Note:
Anonymous silver and gold card can only apply for 7 day travel pass product.
Registered silver and gold nol card are eligible to apply for (7,30, 90 and 365) days travel pass product